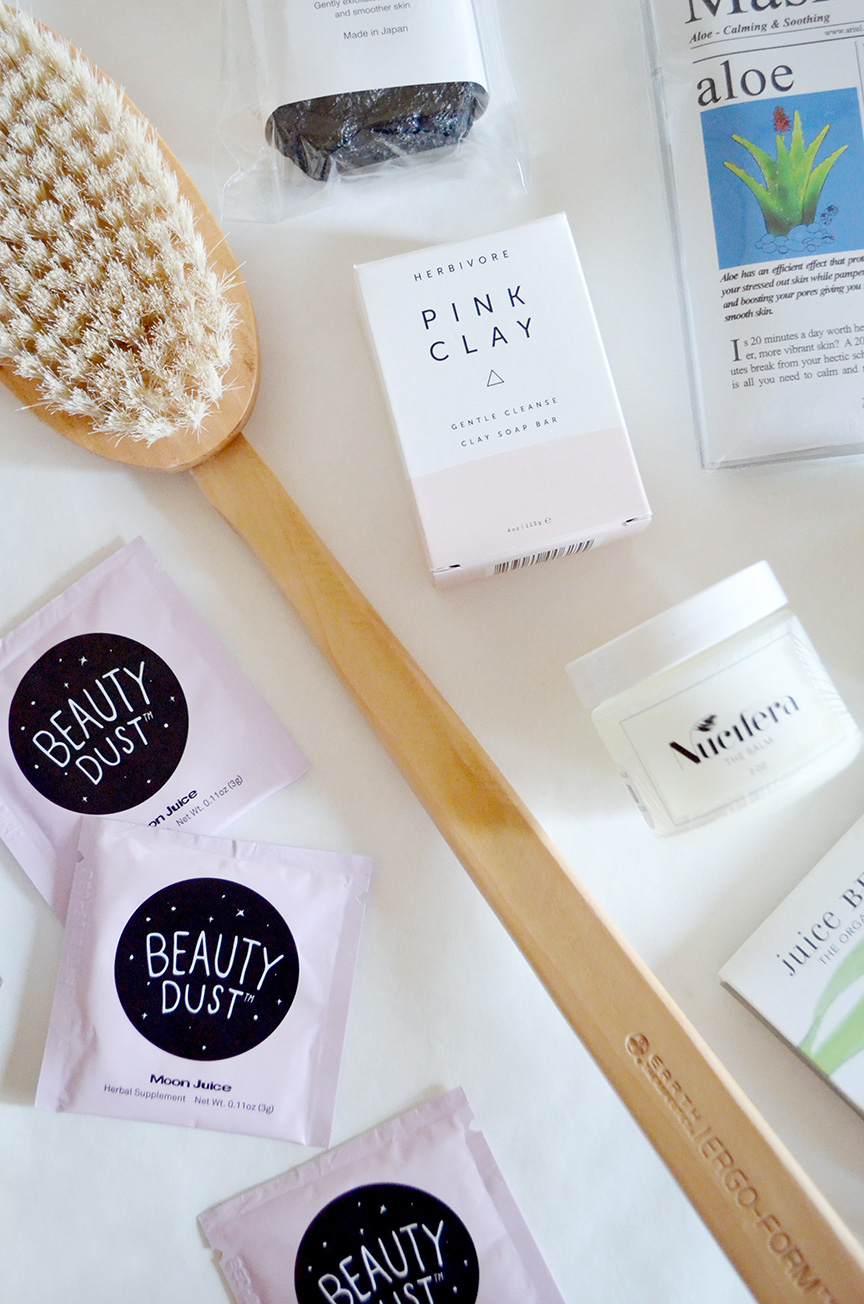 The best way I have found to get rid of puffy, dry, and irritated skin (thanks, holidays) is to give my skin a total detox. After researching and testing out products, I created a Beauty Detox Guide to target skin concerns from head to toe. Below you can read up on my latest finds and see which products, if not all of them, are calling your name.
As much as I Iove going to spas, I'm not into going to hot saunas and sweating it out. It's a bit uncomfortable for me lying there, sometimes with other people around, in a puddle of sweat. But I do like the idea behind it. When you sweat, toxins are released, and skin is revitalized. So instead of going to a sauna, I like to sweat it out in the comfort of my own home with Dr. Singha's Mustard Bath. Dissolve 2 oz. of the powder into a hot bath, as hot as you can take it. Then soak and relax for about 20 minutes. Feel free to thank me later.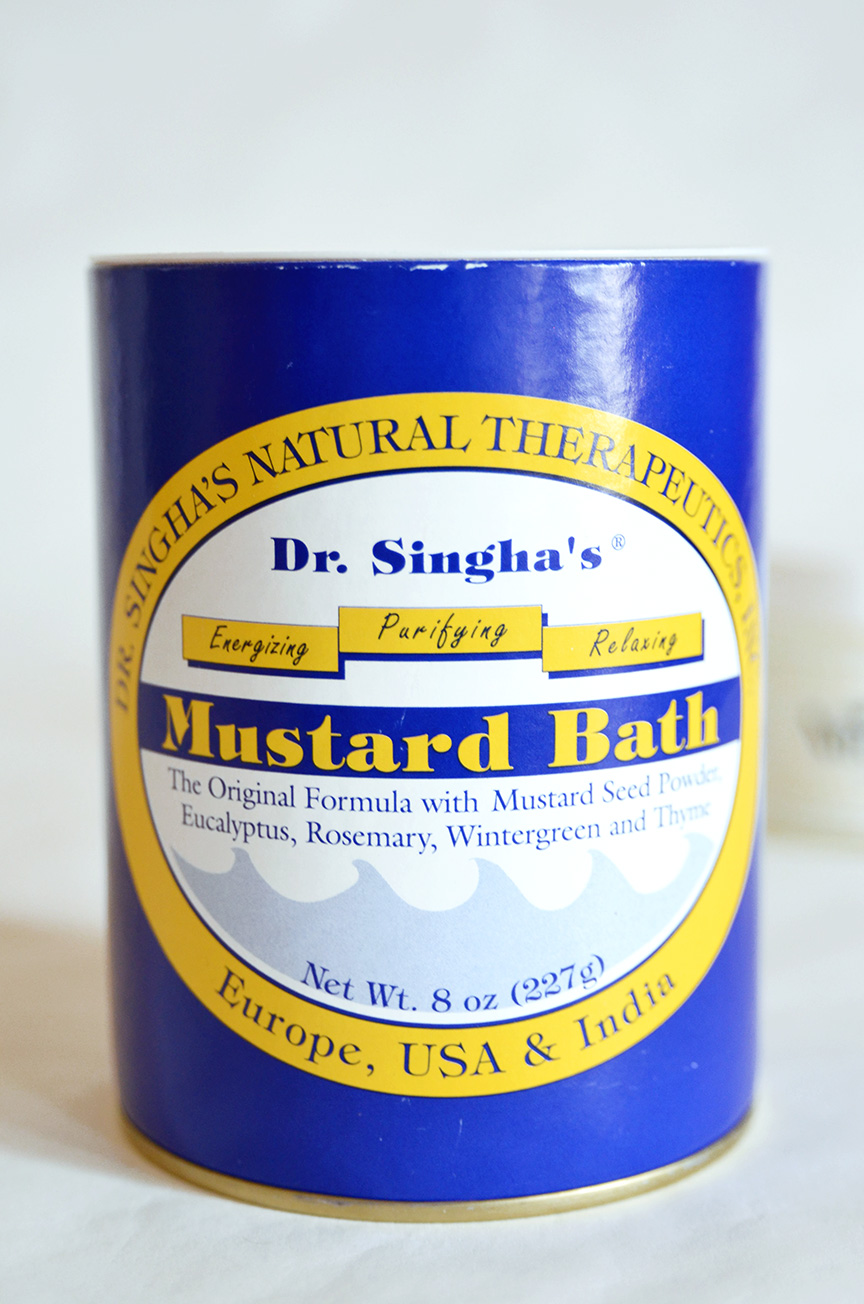 In the morning, before showering, use a dry brush to exfoliate skin and remove dead skin cells. Start at your feet and brush upwards. Brushing upwards decongests and stimulates your lymph nodes helping to shed excess water and toxins. You also get a boost of energy that almost has the effect of a cup of coffee. Well…almost.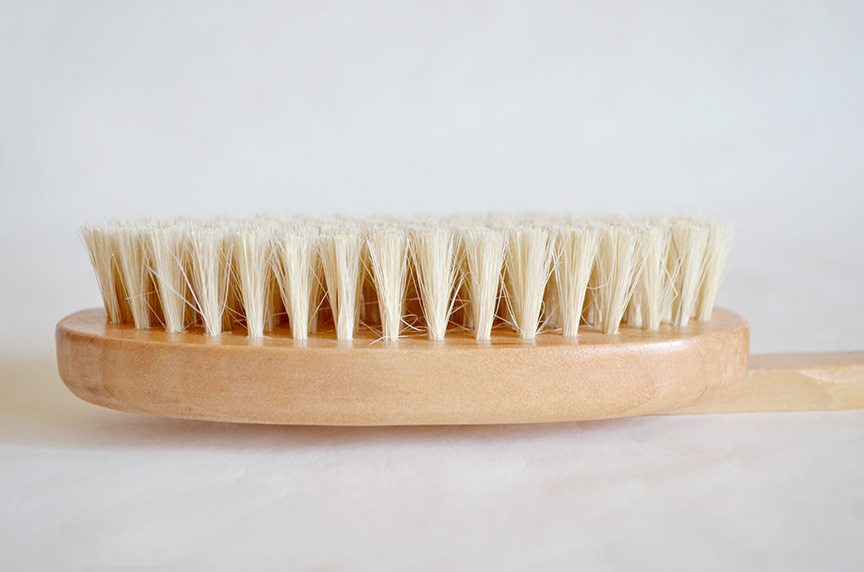 What can I say about Nucifera The Balm? It's a super-balm that repairs damaged skin, deeply moisturizes, has anti-inflammatory properties, detoxifies, and leaves your skin rejuvenated. I like to use it at night to moisturize my hands and face before bed. But I also would recommend using after dry brushing to soothe and calm your skin.
I have been hearing a lot about Moon Juice's Moon Dusts and was especially interested in trying their Beauty Dust. Their ingredients like organic goji and pearl give your skin a radiant glow from the inside out. In the morning, I use one sachet and add it to my coffee with a bit of organic cream and raw sugar. Delicious!
When I think about clay being in skincare, hydration is not the first thing that comes to mind. Drawing out impurities, yes—but leaving my skin soft and moisturized, not so much. Herbivore Pink Clay Cleansing Bar is the best of both worlds. Pink clay not only detoxes your skin by drawing out impurities but does it without drying out your skin. I know, sounds crazy, right? Try it for yourself and fall in love.
Binchotan Facial Puff has just two ingredients, Konjac Root and Binchotan Charcoal. Konjac Root is a natural exfoliator and Binchotan Charcoal is a micro-fine powder that draws out impurities from the skin. To use, wet the sponge for a minute or so until the fibers of the sponge become soft. Gently scrub face in circular motions. Rinse the sponge in warm water and hang to dry. This puff is ideal for all skin types, but especially those with sensitive skin.
Lately, I have been on a Korean sheet mask kick. These masks are super easy to use and give immediate results especially if your lackluster skin needs a quick tune-up. Ariul 7 Days Mask Set comes with seven different masks to target all skin care issues. I'm a huge fan of the Pomegranate mask for its brightening properties, but still have much love for the other six masks that deal with breakouts, calming the skin, retaining moisture, and exfoliating.
The other day I was talking to a friend about how tired my eyes look and feel and how I need something to give them a boost. Well, Juice Beauty has made my eyes so happy with their Instant Eye Lift Algae Mask. I mean, the words "instant" and "eye lift" were what drew me to this product in the first place! And those two words don't even do this eye mask justice. I think I'll rename it "Juice Beauty Make You Look 10 Years Younger Super-Duper Eye Mask". Yeah, that sounds much better.
Are there any products from Glossier I don't like? Nope. They pretty much nail it with every product they come out with like the Mega Greens Galaxy Pack detoxifying face mask. It's made with Kaolin Clay to remove excess oil, Bitter Orange Peel to exfoliate and calm the skin, and a superfruit antioxidant blend to protect against cell damage. When my skin is feeling extra rough, I apply a thick layer of this mask, wait 20 minutes, rinse, and realize once again why I'm a big fan of Glossier's products.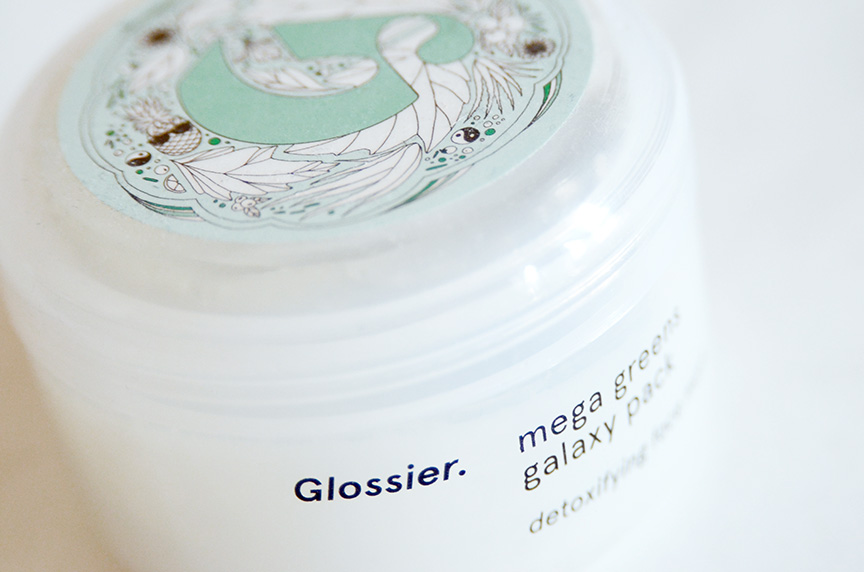 Last, but certainly not least, is Ursa Major's Recovery Cream. After all of this detoxifying of the skin, your face will need to be replenished and nourished. This cream provides ultimate hydration thanks to one of their key ingredients, Sea Buckthorn. You can use this in the morning, but I go for nighttime use so I can wake up to smooth and glowing skin.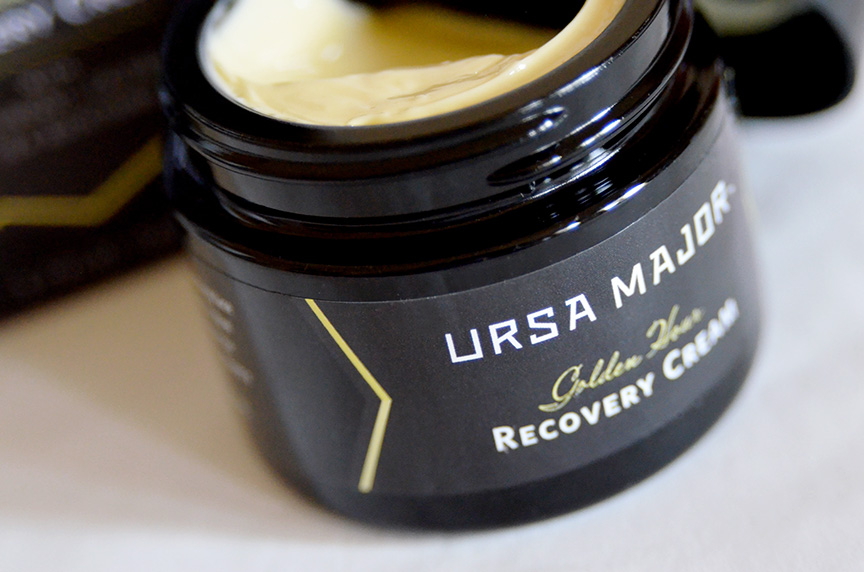 The results my skin has had from these products have been stellar, and I think I'll continue to keep these in my skincare product rotation.
Have you ever done a beauty detox? Which products are your favorites? Tell me what you like to use in the comments below.