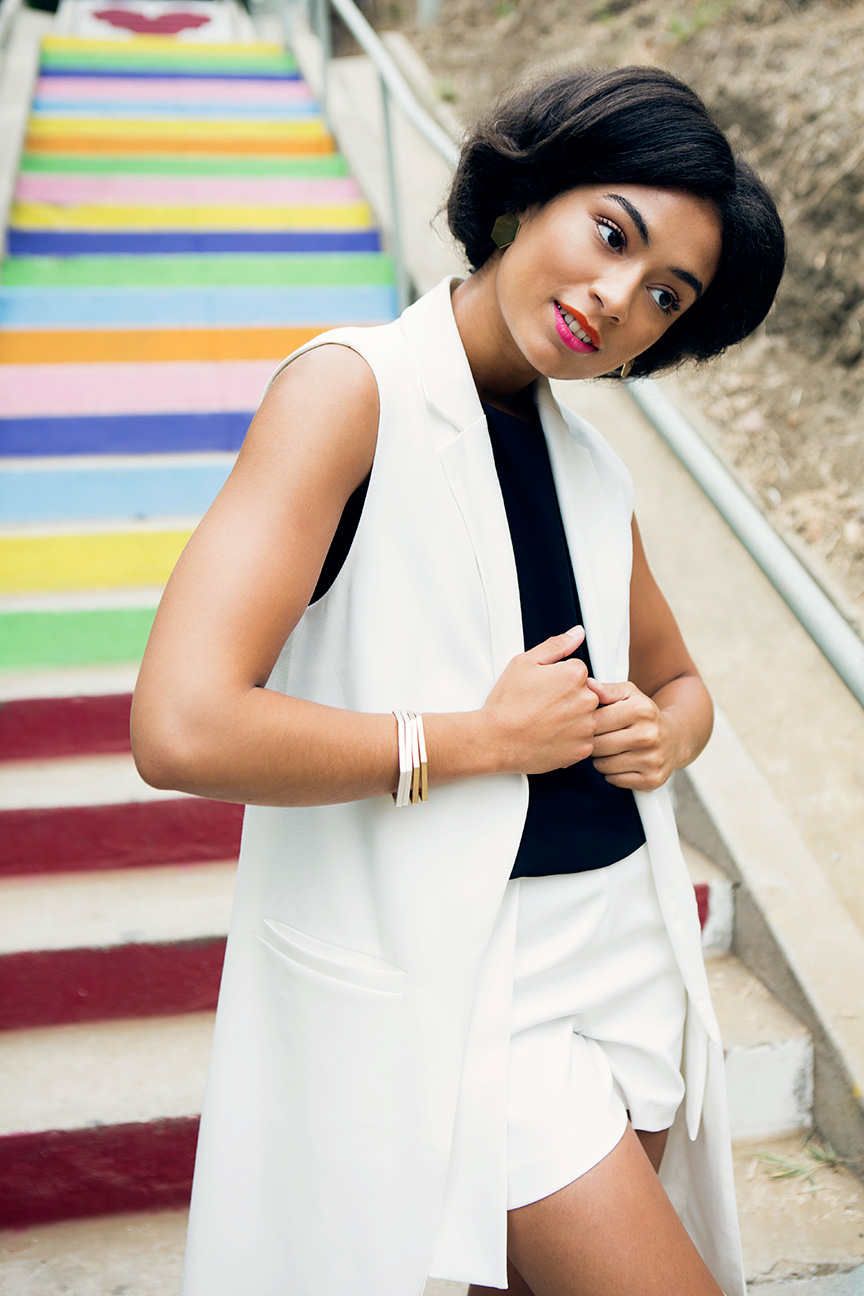 Corita Kent was a revolutionary artist, designer, educator, and nun in Los Angeles. During the 1960's she was the head of the Art Department at Immaculate Heart College and was known for her experimental style of teaching and for giving messages of hope, joy, and peace through her work. You can learn more about Corita at corita.org. I've been following and admiring her for many years and wanted to use her energetic work as an inspiration for a new photoshoot.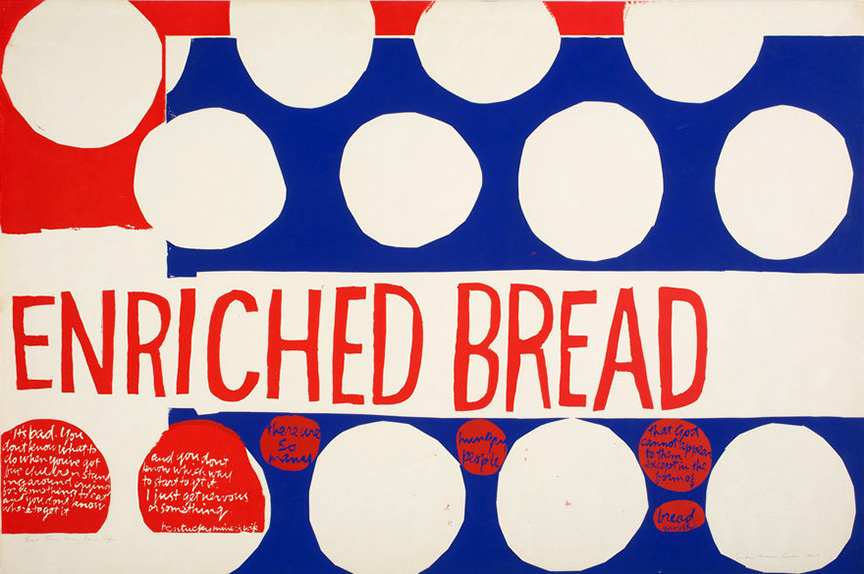 Corita Kent, "that they may have life," 1964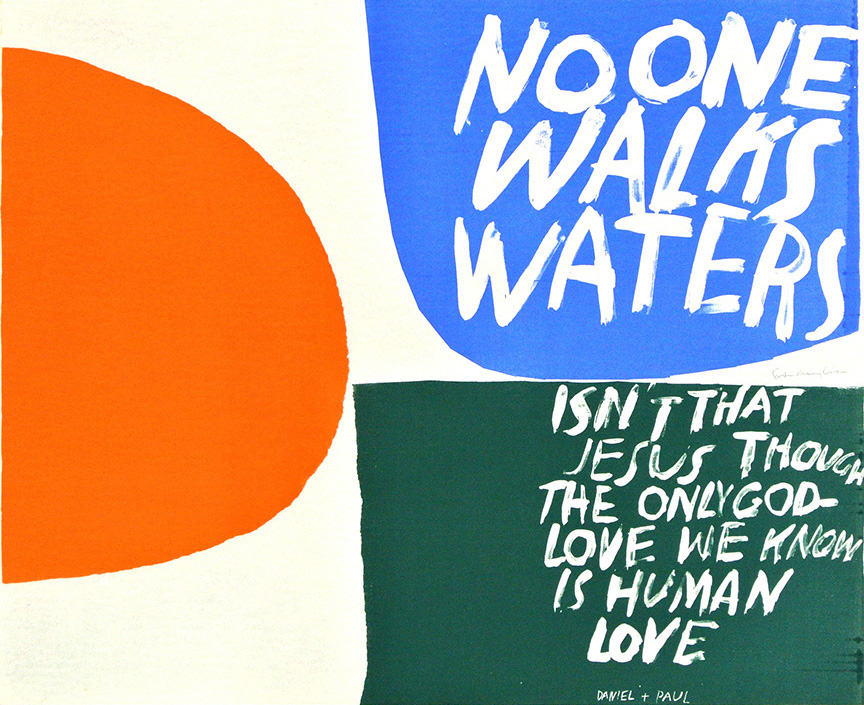 Corita Kent, "no one walks waters," 1965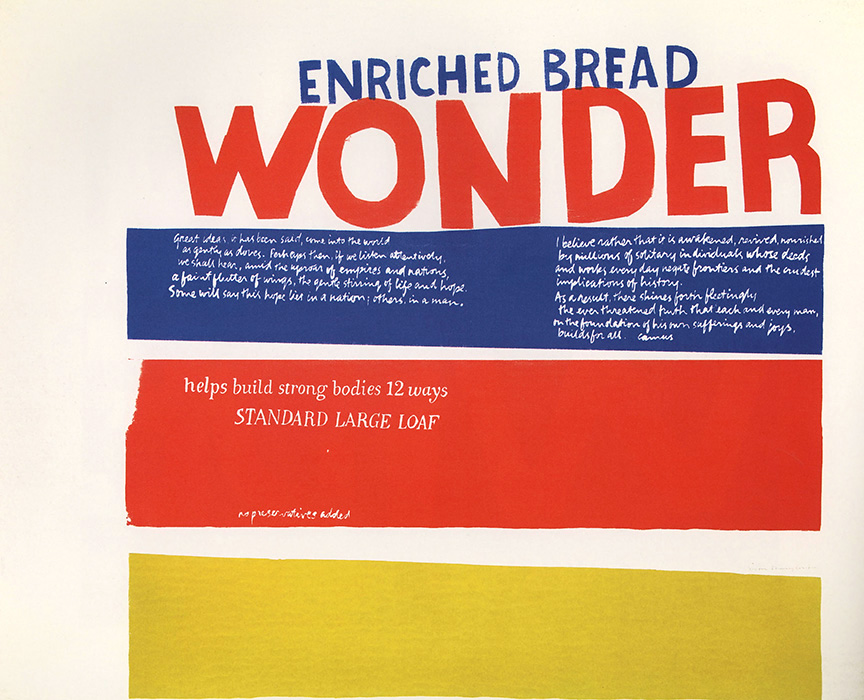 Corita Kent, "enriched bread," 1965
While researching Corita's body of work for my shoot, A Modern Wonder, I was inspired by her use of vibrant Day-Glo colors, bold typography, and graphic shapes like circles and rectangles. I also took influence from the Mod 60's fashion of the day from hair worn in a bob to geometric monochrome shift dresses and platform shoes.
After location scouting, I selected three unique sites that fit my inspiration—the Micheltorena Stairs, the Polka Dot Wall at The Springs, and Nick Metropolis Collectible Furniture, all in Los Angeles, CA where Corita lived and worked.
For the first makeup look, I wanted to focus on subtle but bright pops of color. The model's lips were two-toned using NYX Soft Matte Lip Cream in Antwerp on the top lip and Mirabella Velvet Lip Pencil in Blush on the bottom lip. To give her skin a satiny finish I buffed in Bobbi Brown's Warm Honey Foundation Stick and highlighted with the Hourglass Ambient Lighting Palette. In the last photo, I kept the skin the same but changed her lip color to a natural, softer pink using Charlotte Tilbury's Penelope Pink lipstick.
I gained a greater appreciation for Corita's art while working on this project and it inspired me to create a look that is both joyful and bright. Have you ever worn a bright makeup color? Would you try a two-toned lip?
Makeup and Creative Direction: Renée Loiz, Photographer: Sami Drasin, Assistant Creative and Wardrobe Stylist: Rose Park, Hairstylist: Sera Sloane, Model: Ashley McRae
Corita Images: Courtesy of the Corita Art Center, Immaculate Heart Community, Los Angeles, CA
Micheltorena Stairs: Corinne Carrey, Polka Dot Wall: The Most Famous Artist