I recently came across a photo shoot I worked on inspired by the classic French film, Breathless. Throughout the film, Jean Seberg dressed in French New Wave fashion—striped shirts, skinny black pants, and flat shoes. Her makeup and hair were kept straightforward and clean with an emphasized brow and strong cat eye.
For this shoot, I modernized the look by creating an under exaggerated cat eye and textured asymmetrical hair. Check out more images from this shoot and learn about the products I used to achieve this breathless look!
To hydrate her skin, I began by prepping with Jurlique's Rosewater Mist. I followed with their Eye Cream to smooth out lines and add luminosity under the eyes. To soften her skin, I applied Moisture Replenishing Day Cream from Jurlique.
Her skin was kept fresh and hydrated throughout the day with NARS Pore Refining Primer. This primer set up a perfect canvas for her foundation, OCC Tinted Moisturizer. I love the opacity and velvety finish of this tint! Next, I smoothed on NARS Radiant Concealer under the eyes, hiding any discolorations. To set the makeup and take away shine, I brushed on Make Up For Ever Powder.
To create fuller brows, I mixed the powder and wax together from Senna Brow Shaper Duo and brushed into brows. Using NARS Madrague Eyeshadow, I applied the cream color to lids and defined the crease with the caramel color. As a nod to the French New Wave style, I added a cat eye flick using NARS Via Veneto Eyeliner. I lengthened and thickened her lashes with a few coats of Maybelline Great Lash Mascara.
NARS Luster Blush, a golden apricot hue, was dusted onto cheekbones for a natural glow. To add warmth to her skin, I brushed Kevyn Aucoin Celestial Bronzing Veil across the forehead, nose, and chin.
I conditioned her lips with Jurlique Love Balm followed by NARS Walkyrie Lip Pencil which glided on smoothly. The burnt coral red color definitely brought the entire look together!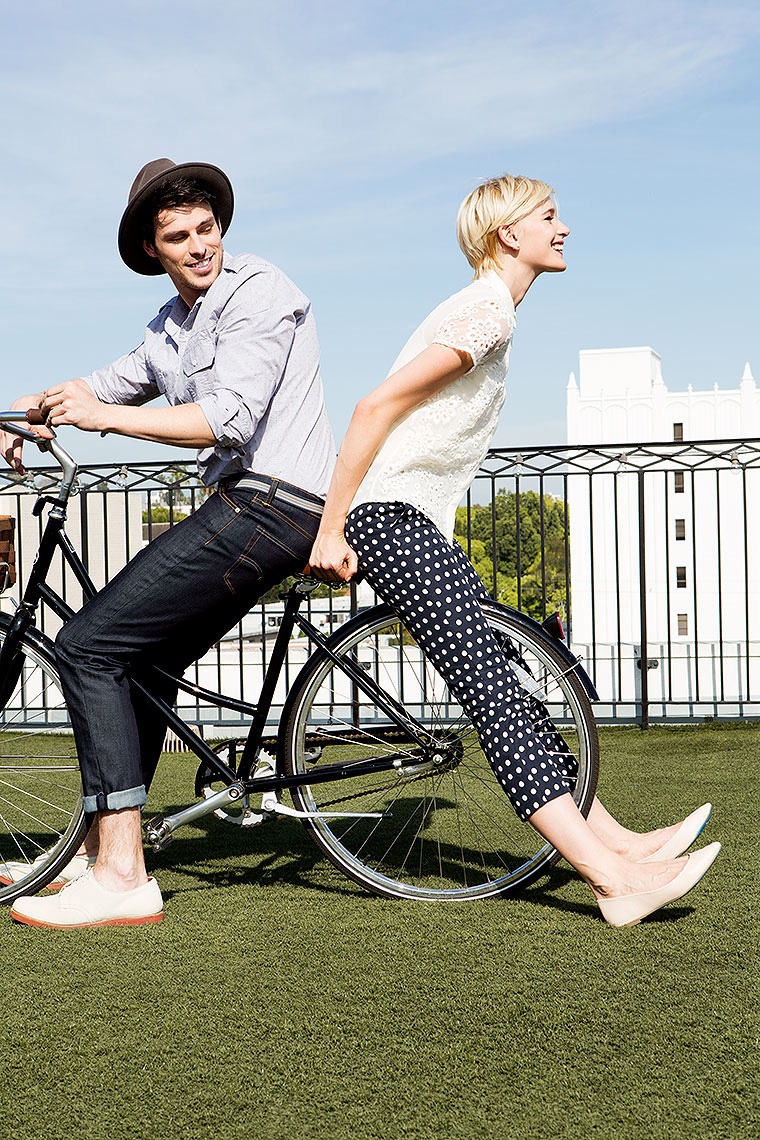 For her hair, I used a product to make it a little gritty. Batiste Original Dry Shampoo worked perfectly to thicken her hair and tame flyaways. Lastly, I applied a pea-sized amount of Healthy Sexy Hair Soy Paste for a piecey look.
I hope this post left you breathless! Be sure to check out my Instagram feed for clips of the video made for this shoot.
Makeup and Hair: Renée Loiz, Photographer: Cheyenne Ellis, Wardrobe Styling: Laura Zanotti, Model: Katrina Hunter, Model: Adam Gregory, Location: Palihouse