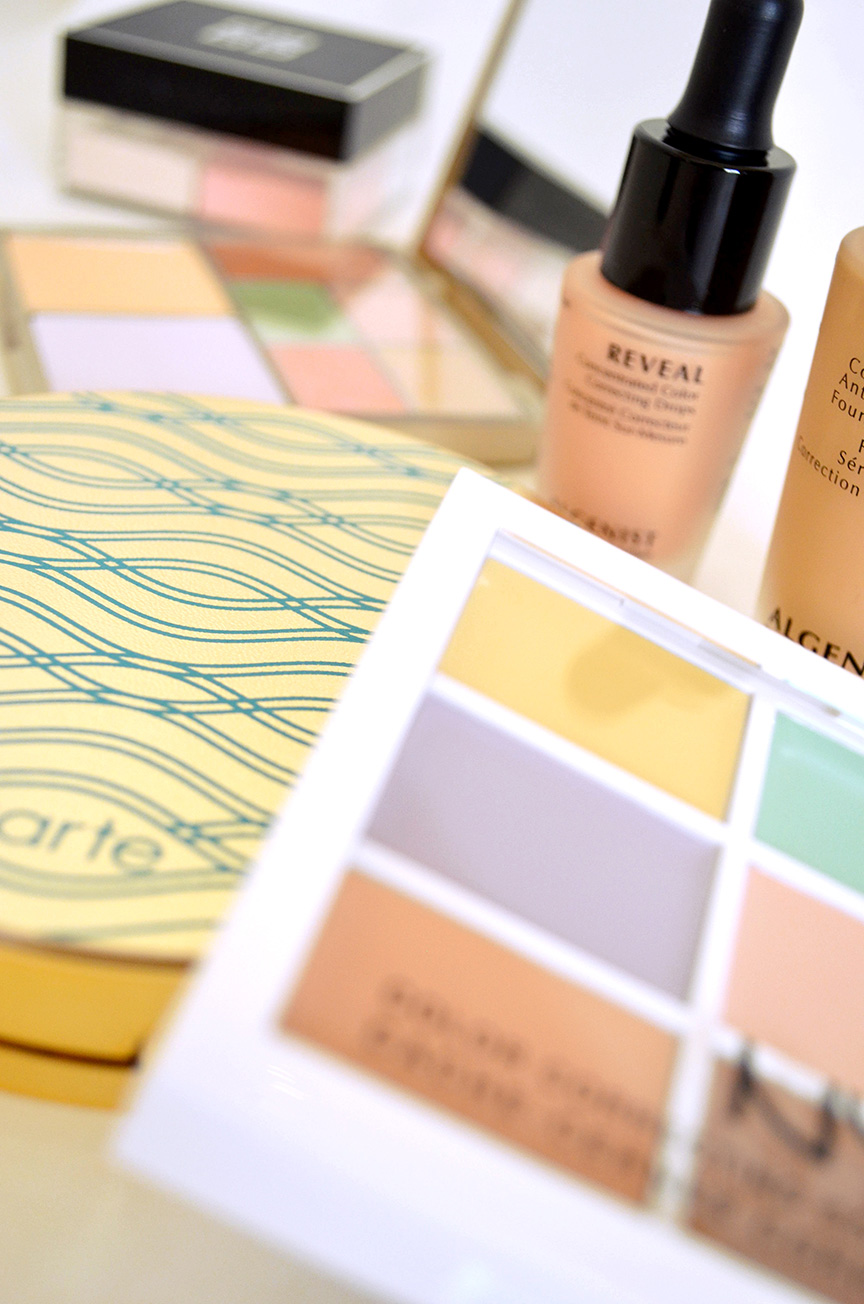 New to the color correcting trend and don't quite understand what all the fuss is about? And what do all those colors do exactly? Well, think of a color wheel and how there are three primary colors—red, blue, and yellow and three secondary colors—green, orange, and violet. Each color with its opposite cancels the other out when using with color correcting makeup. Here's a simple cheat sheet showing how it works:
Brighten sallow or yellow skin with lavender shades
Keep redness neutralized with a green toned corrector
Use peach hues to cover up blue under eye circles and dark spots
Start out with a light application and remember to blend, blend, blend until you have corrected your problem area. Then apply foundation and concealer on top for a flawless finish. Keep reading this post, Color Corrected, to learn about some of my favorite products and how to use them!
Perfecting Palettes
The Stila Correct & Perfect Palette is a beautiful compact that not only has every color corrector you need to cover and conceal all imperfections, it also has two amazing setting powders. The yellow powder is used to set the correctors and even out your skin tone, while the lavender totally brightens your skin. This one you'll love!
I am so into the NYX Color Correcting Concealer Palette! The correctors are sheer and lightweight and leave your skin feeling like you're not wearing a ton of makeup. All of the colors can to be used together to make your own custom shade. And for $12, this palette isn't going to break your wallet.
Tarte Wipeout Color-Correcting Palette comes with a handy guide on how to use and where to put each color. The palette itself is numbered to help you follow along on the guide, making the application foolproof. It comes with six correctors to brighten skin, erase dark circles, neutralize redness, and highlight and contour the skin. This palette is a limited edition, so grab one before they're long gone.
The Micro Mini Correct Four sponges by Beauty Blender are the cutest makeup applicators I have ever seen! Under the eyes and around the nose are no longer "hard-to-reach" areas and when used with a comparable corrector shade, they make application a cinch.
---
Correcting Sticks
Marc Jacobs Cover(t) Stick Color Corrector's are almost too pretty to use. I love the marbleized colors and the easy-to-use roll up tubes. The Cover(t) Stick has blurred pigments so when applied it leaves a soft focus-effect, hiding those pesky discolorations. Simply blend to desired areas on the face and follow with foundation.
Urban Decay never disappoints with amazing, innovative products and their Naked Skin Color Correcting Fluid far exceeds your color correcting expectations. This light-as-a-feather formula comes in five shades, blurs imperfections, and melts right into the skin. The doe-foot applicator makes it easy to swipe onto your delicate eye area.
---
Keep It Simple
If you like to buy your makeup products from one company to keep things simple try Algenist's Color Correcting Radiant Primer to even out and prep skin for makeup application, add Drops to target specific skin concerns to their Foundation which instantly evens and perfects your complexion, and lastly spot treat with their Concealer for long-lasting coverage.
Set your makeup with Givenchy Prisme Libre loose powder to mattify the skin and leave a luminous finish. Prisme Libre comes in various combinations that work well with all skin types. My favorite color, Voile Rosé, has a beautiful mother-of-pearl and pink tone that leaves skin glowing from within.
---
I hope this post was informative and has helped you to be color corrected! Which color correctors are you interested to try? Talk to me in the comments below!