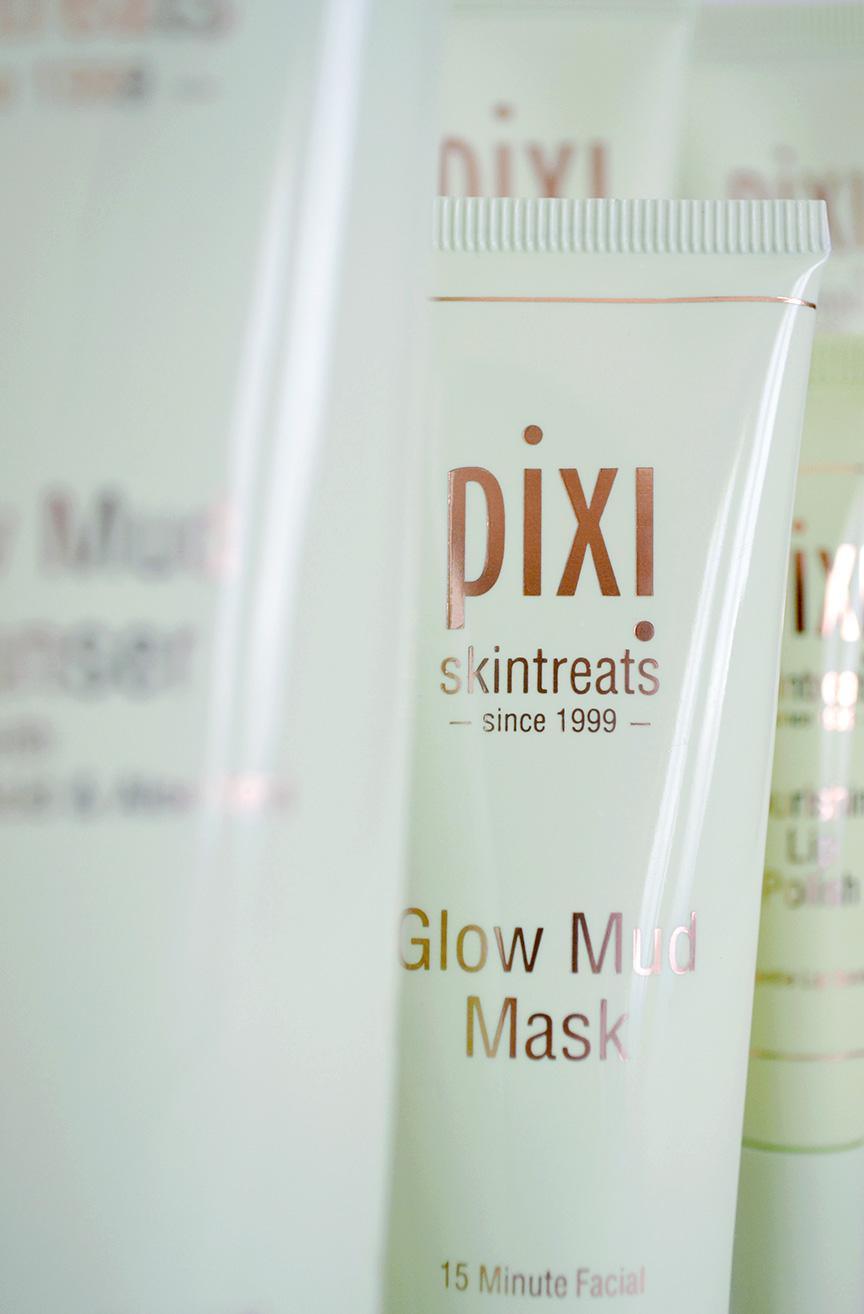 Pixi Beauty was created over 10 years ago by makeup artist, Petra Strand, and her brand has been growing and gaining a massive following since. Her mission is to develop products that make women look like themselves, but better. This is what we all want, right?! Products that will enhance our features, but not cover up who we are.
Continue reading on how to Keep it Simple with Pixi Beauty and at the end of the post there are details for my #PixiBeauty giveaway. Good luck!
Skin Purifiers
Glow Mud Cleanser is an exfoliating cleanser that detoxifies, plumps and nourishes the skin. Massage a small amount into skin for 30 seconds, avoiding the eye area. Rinse with lukewarm water and pat dry. Your skin is left smooth to the touch and will be glowing, guaranteed! To keep your skin glowing on the regular, use the Glow Mud Mask at least 2 times a week. This mask keeps your skin balanced while purifying the skin and clearing up acne. Apply a thin layer to clean skin and leave on for 15 minutes for a brighter complexion. 
Sometimes you just don't want to go through all the steps of washing your face and need to do something quick and go about your day or night. Moisturizing Cleansing Cloths are your answer. These soft cloths remove dirt and oil in one step and leave your skin refreshed and hydrated. No rinsing needed.
---
Skin Hydrators
If your dry skin needs a hydration boost, treat and soothe it with Hydrating Milky Mist and Milky Serum. These two products together will instantly hydrate, protect, and produce a natural radiance. After cleansing, spray mist onto face and immediately follow with the serum. Your skin will be super moisturized and have a plumped effect. Follow with H20 Skindrink, a moisturizing gel, to really lock in the moisture and stimulate your complexion.
One of my favorite products from Pixi Beauty is the Glowtion Day Dew. It's a lightweight moisturizer that illuminates the skin, giving it a lit-from-within glow. Apply after your skin is cleansed and toned for a radiant and more even skin tone.
---
Skin Enhancers
Everyone should have the Nourishing Lip Polish and Lip Contour Liner in their makeup kit. The polish exfoliates and nourishes dry lips, leaving a super smooth finish. The liner, long-wearing and smudge-proof, preps the lips for lipstick or gloss. 
The Minimal Makeup Book of Beauty is a simple palette that has everything you need for a natural makeup look. It comes with a pearl hued and a golden highlighter, rose blush, bronzer, and 4 eyeshadows in peach, pink, and chocolate tones. All the colors are easy to blend and aren't highly pigmented making this the perfect palette for makeup minimalists.
---
This month I will be doing a giveaway with all of the products from my Keep it Simple with Pixi Beauty post! Here are the details on how to enter:
Subscribe to my blog, then follow me on one of my social media handles: Instagram, Twitter, or Facebook. Finally, come back to my blog and leave a comment that includes "#PixiBeauty." Don't forget to tell a friend!
You must do all steps to qualify. One entry per person. Giveaway will end Tuesday, May 3rd at 12am PST. Winner will be announced on my social media channels Wednesday, May 4th. Open to U.S. only, sorry no international.