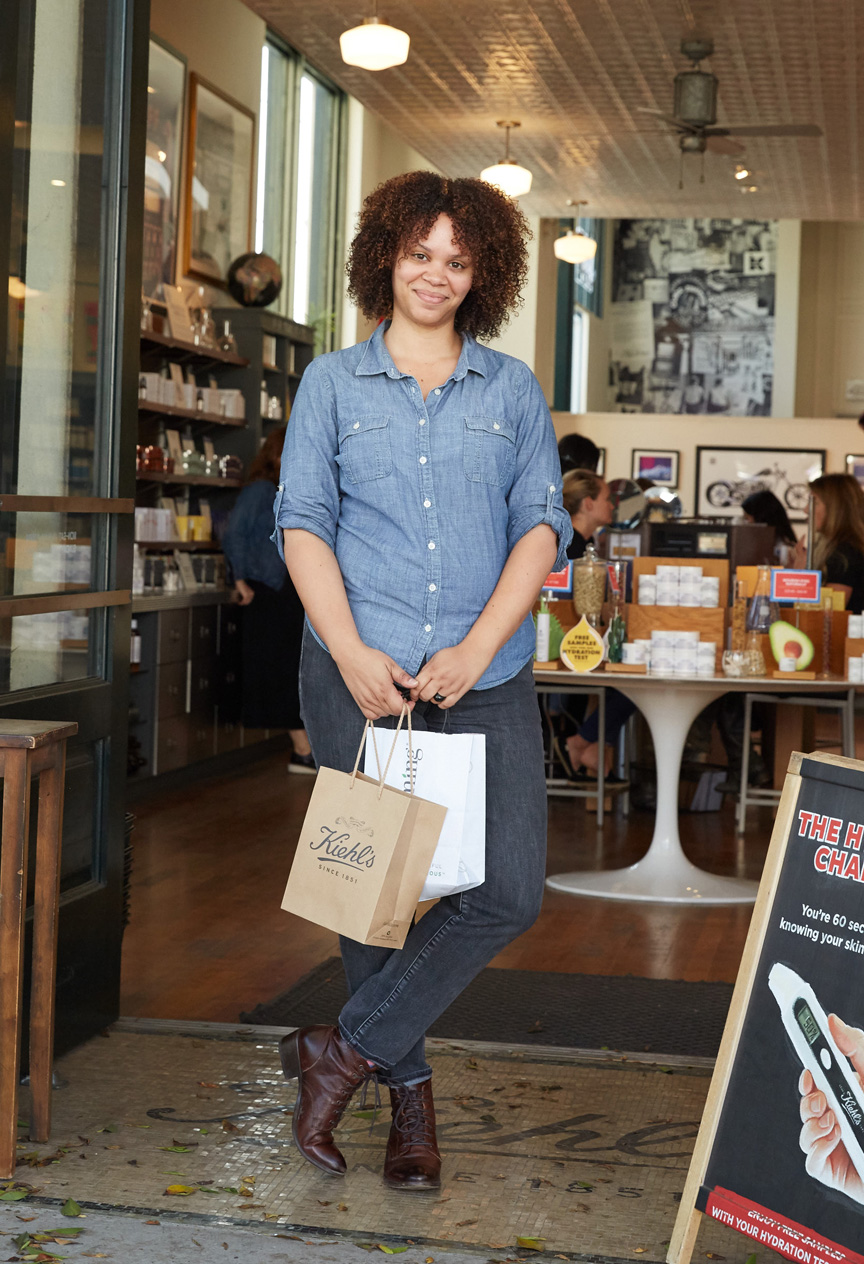 When I began to take an interest in caring for my skin, Kiehl's was my go-to brand and helped repair my skin from acne and hyperpigmentation scars. The Calendula Toner, Ultra Facial SPF 30 Moisturizer, and now discontinued Gentle Foaming Cleanser were and still are staples in my skincare routine.
Well, Kiehl's just got personal with their latest product launch, Apothecary Preparations. This personalized regimen custom blends a unique treatment to use at home. In October, I was invited for a private appointment to experience this new skincare innovation at their store in Santa Monica, CA. Read on to learn more!
First I started out with a complimentary skincare consultation. The hydration of my skin was measured with a dehydration analyzer tool on my cheek for sixty seconds. If the reading is from 0 to 30%, this indicates extremely dehydrated skin, 31 to 50% means there is slight dehydration, and you're all good if you read over 51%. I read at 42.6% hydration which is slightly dehydrated. Not bad, but I would have loved to get over 51%!!
Next, we walked through my skincare routine to address my concerns—dehydration, uneven tone, and hyperpigmentation. To take care of my lack of hydration, I added Midnight Recovery Oil Cleanser to my routine.
Then I had an elevated skincare consultation and diagnosis with Kiehl's Apothecary Preparations. Kiehl's has a dermatologist-inspired gigantic Skin Atlas that assessed and ranked all of my skin concerns. It was pretty cool to see the results and pin down exactly what I needed for my skin.
Based on my two specific skin concerns—large pores and brightening, they made a personalized formula. My blend consisted of the Skin Strengthening Concentrate and two Targeted Complexes, Pore Minimizing Complex and Brightening Complex.
The Pore Minimizing Complex contains salicylic acid, a mild exfoliator and pore reducer. Brightening Complex has Oil-Soluble Vitamin C Ester as the main ingredient to help with hyperpigmentation and skin unevenness.
Kiehl's made a personalized box for my formula and labeled it with instructions on how to use when I got home. Super easy. I just add my two Targeted Complexes, one at a time to the Skin Strengthening Complex, and mix. 2-3 drops are all I need to apply to cleansed skin in the morning and at night. Brighter skin, here I come!
If you're interested in getting a personalized skincare regimen to target your problem areas, go to Kiehl's to find your nearest location and schedule an in-store appointment.
What are your skin care concerns and products you use to address them? I'd love to hear all about them in the comments below.
Photographer: Tony Minas