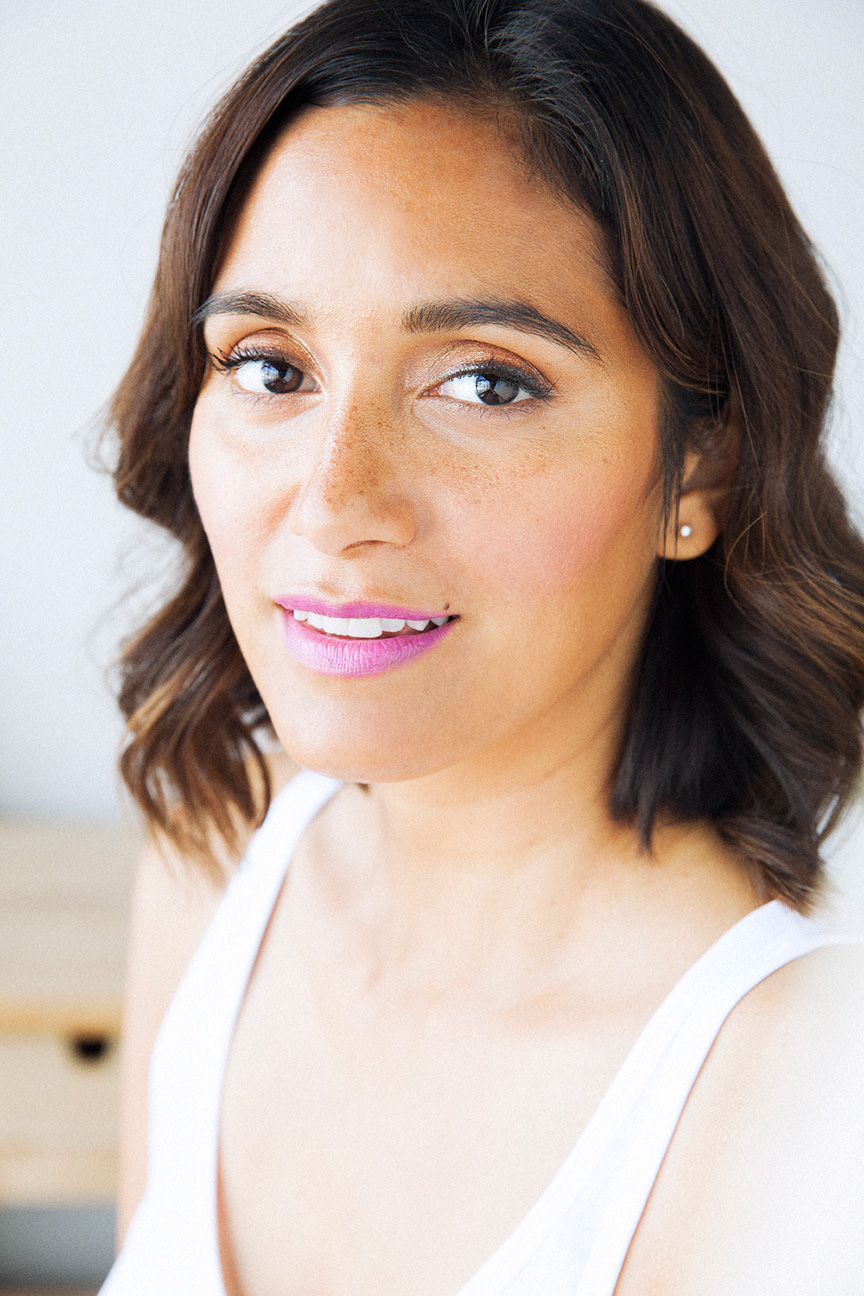 When I think of summer beauty, I immediately think about luminous, bronzed skin. But each year I'm reminded how harmful UV rays are to the skin (remember to wear an SPF this summer). In this post, I share how to get a sun-kissed makeup look without basking in the sun. Keep reading to see how I create a beautiful glow with my sun-kissed makeup tutorial.
Skincare & Foundation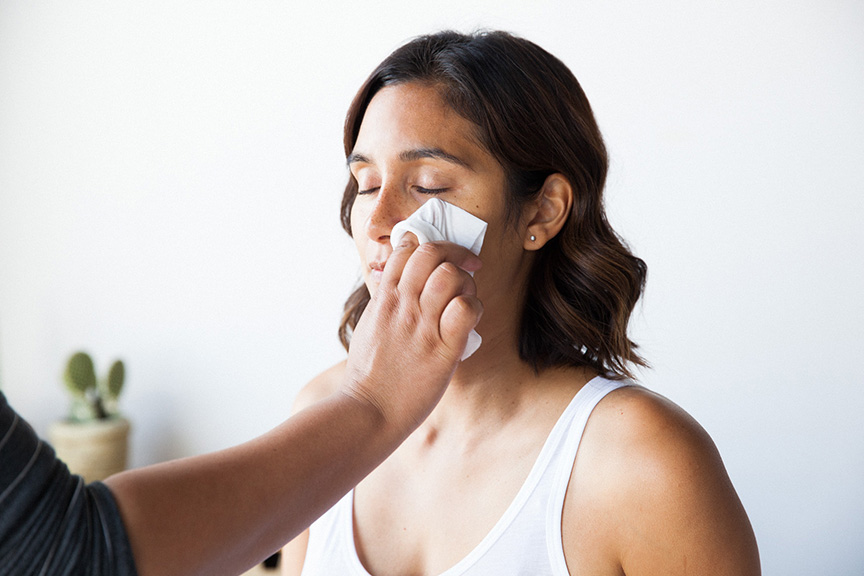 Always start by cleansing and moisturizing the skin before applying makeup. This will help makeup glide on easier and stay on longer. I first cleansed my model's skin with Pacifica Moisturize Serum Wipes to refresh and sprayed Gunilla Rosewater Mist to balance and hydrate. Skin Owl Eye+ was applied under the eyes to de-puff and smooth out any fine lines.
One of my new favorite moisturizers is Murad's Hydro Dynamic Quenching Essence. A couple of pumps of this lightweight moisturizer are all you need. It instantly hydrates and leaves the skin with a smooth finish.
To even out her skin I used Melanie Mills Body Radiance in Rose Gold as a primer and then brushed on Beautycounter's Dew Skin Tinted Moisturizer. The combination of these two products left her skin looking freshly bronzed. Bobbi Brown Tinted Eye Brightener was applied to lighten under the eyes and hide any dark circles.
---
Brows & Eyeshadows
To frame the face, her eyebrows were filled in with Beautycounter's Eyebrow Pencil. Next, I drew on Vert Beauty's Eyeliner in Cuivre, a warm copper, and blended it in with Manna Kadar 3-in-1 Eyeshadow, a nude blush pink. The Melanie Mills Radiant Dust in Light Gold was lightly brushed on top to highlight the eyes. I lined her eyes with Georgie Beauty Creme Gel Eyeliner in Charcoal and coated and conditioned her lashes with Mirabella Lasting Lash Mascara.
---
 Blush & Lips
I wanted her cheeks to have a subtle flush and Georgie Beauty's Le Jardin Blush in Dahlia, a vibrant pink, cream blush, gave her just the right amount of color! Use a blush brush to tap the color onto the apples of the cheeks.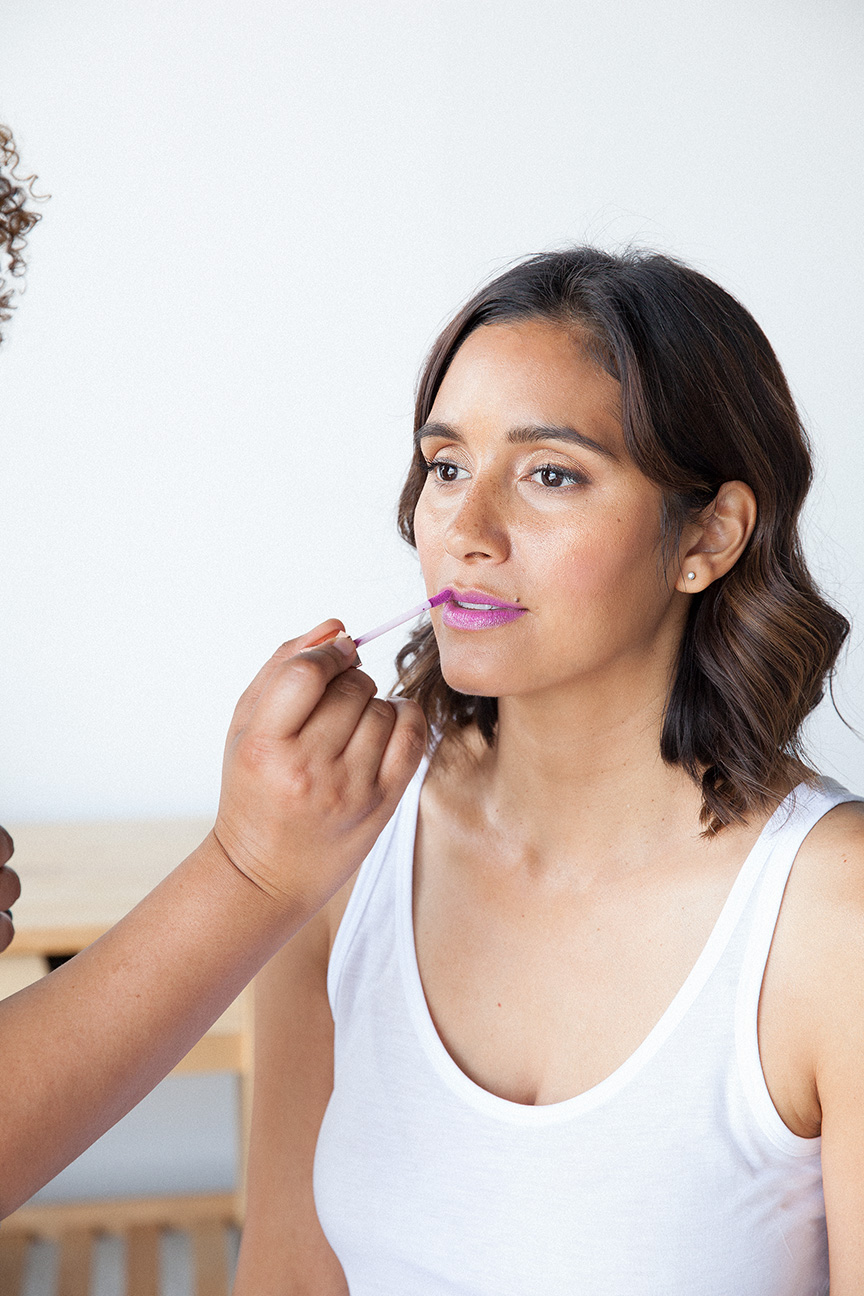 Lastly, I brushed on Smashbox Cosmetics Magenta Matte Lipstick and topped it with Melanie Mills Gleam Lip Radiance in Uncontrollable for a bright pop of color.
---

I hope my sun-kissed makeup tutorial will have you "basking" in a nearby makeup store! I'd love to know what products you will use to achieve your sun-kissed makeup look.
Makeup and Hair: Renée Loiz, Photography: Dana Sabre, Model: Nicole Lemoine, Studio: The Moon and Co, Wardrobe: Top & Shorts