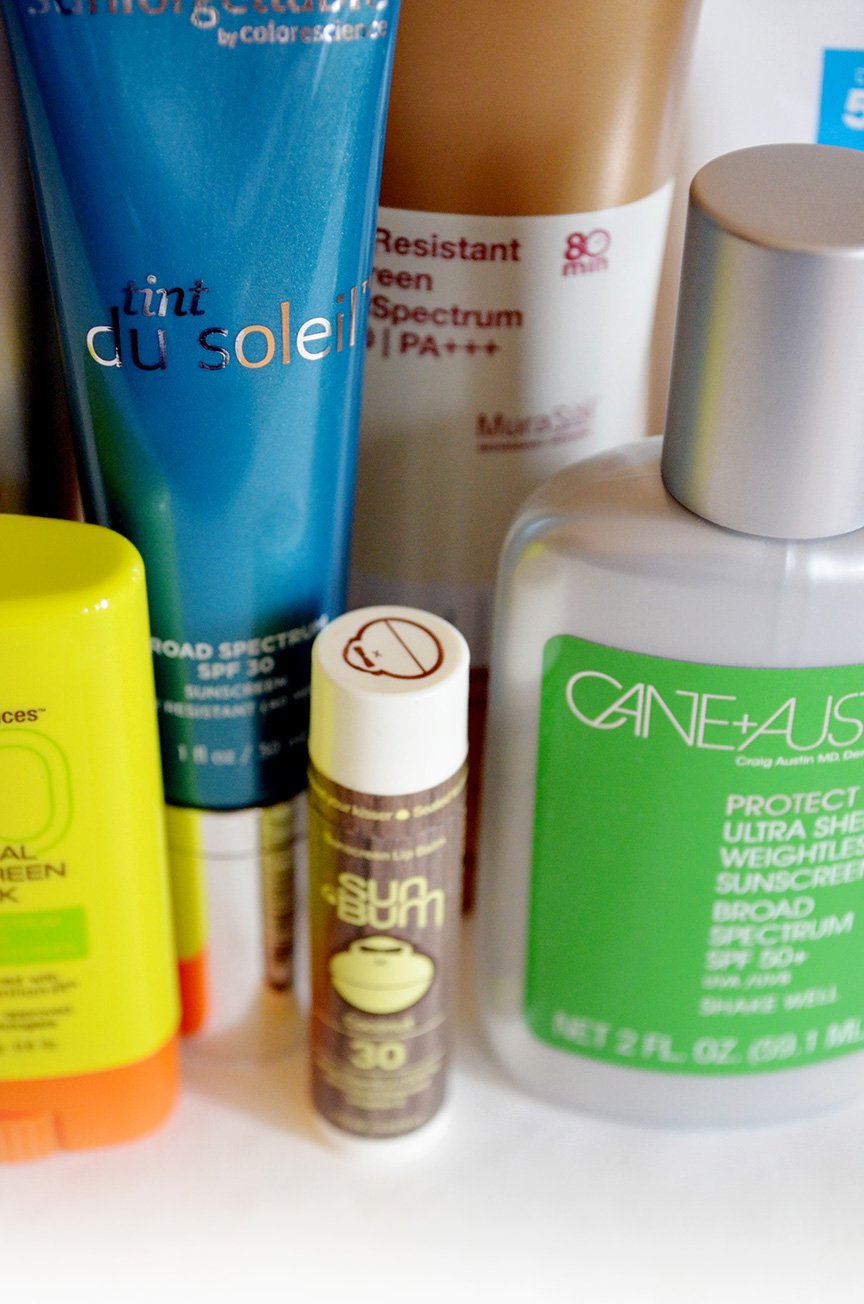 Here's the thing about sunscreens, they're super hard to understand, right? What does SPF stand for and what do the numbers associated with it mean? What's the difference between UVB and UVA rays? I'd like to give you simple and straightforward answers to help you understand and find your best sunscreen.
Here is my essential guide and general rules for sunscreen use:
SPF or Sun Protection Factor is a measure of how well a sunscreen will protect your skin from UVB rays. SPF 15 blocks out 93% of UVB rays, SPF 30 blocks out 97%, and SPF 50 blocks out 98%. Even the highest SPF won't completely block out all UV rays.
UVB rays cause sunburn and contribute to skin cancer. UVA rays promote deeper skin damage, premature aging, and skin cancer.
Apply 1 oz. of sunscreen 15 minutes before sun exposure and reapply the same amount at least every 2 hours and immediately after swimming or sweating.
Limit your time in the sun, especially from 10am-3pm when the sun is at its peak. The higher the sun is, the more damaging the rays are to your skin.
Sunscreen is safe to use on children over six months of age. If younger, ask a doctor first, before applying sunscreen.
Wear your sunscreen throughout the year, indoors and outdoors, not just the summer months. UV rays are just as harmful on a cloudy day as they are on a sunny day.
All skin tones should wear sunscreen. Hyperpigmentation is common for all skin tones but more prevalent in darker complexions.
To find your best sunscreen, keep reading for reviews on some of my favorites and make sure to download my free PDF guide at the bottom of the post!
Sunscreen Primer and Tinted Moisturizer
If you're looking for a sunscreen to even out your skin tone, try La Roche-Posay Anthelios 50 Mineral Tinted Primer. This 100% mineral sunscreen primer helps conceal dark spots on sun damaged skin and improves your skin's overall appearance. Use alone or under makeup for immediate and long-lasting coverage.
Beautycounter Dew Skin Tinted Moisturizer is one of my favorite sheer coverage foundations, and I use it regularly on my clients who don't want a lot of coverage. I love that it not only has an SPF 20, but also has anti-aging properties from black currant, peony flower root extract, and vitamin C. It comes in 5 blendable shades and leaves skin with a gorgeous luminous glow.
---
Sunscreen Foundation and Dry Powder
For a bit more coverage than a tinted moisturizer, try Colorescience Tint du Soleil UV Protective Foundation. It's mineral based, antioxidant rich, and has a multi-vitamin complex that minimizes the appearance of fine lines and wrinkles. There are only four shades in this water-resistant foundation, but hopefully, the line will expand its colors in the future.
Jane Iredale Powder-Me SPF 30 Dry Powder is a unique dry powder sunscreen that contains pure clay to soothe and calm sunburned skin. You can apply to your face and body, but one place often overlooked and neglected is your scalp. Simply dab powder onto exposed areas of the scalp and smooth in with the sponge.
---
Sunscreen for the Body and Men
Murad Water Resistant Sunscreen has an SPF 30 PA+++, and that PA+++ means the UVA protection is at the highest level. This sunscreen contains pomegranate extract which prevents free radical damage and can be used on the full body to soothe, moisturize, and repair skin's firmness. It also actively works to improve the overall tone and appearance of your skin and smells amazing!
I especially like Cane+Austin Ultra Sheer Weightless Sunscreen for men. It's lightweight, has a transparent finish, and quickly absorbs into the skin. An SPF 50 provides a broad spectrum UVA/UVB protection and keeps even the driest skin hydrated without a greasy residue.
---
Sunscreen Lip Balm and Kid-Friendly
Sun Bum Coconut Lip Balm protects lips from sun damage with an SPF 30 while Aloe and Vitamin E keep them moisturized. Cocoa butter soothes and relieves the drying effects wind and sea. Apply to lips before sun exposure and continuously throughout the day.
If you're looking for a portable, kid-friendly sunscreen, try MD Solar Sciences Mineral Sunscreen Stick. It has pretty powerful mineral protection with an SPF 40 and helps to reduce the risk of photo-aging and skin cancer. This easy to use, roll-up stick, makes application a cinch for even the squirmiest of kids!
I hope this post was helpful to you in finding your best sunscreen. If you have any more questions, feel free to ask me in the comment section below, and I'll do my best to get you the right answer.
Click here for a free download of my Essential Guide and General Rules for Sunscreen Use, and don't forget to share this post with your friends and family!