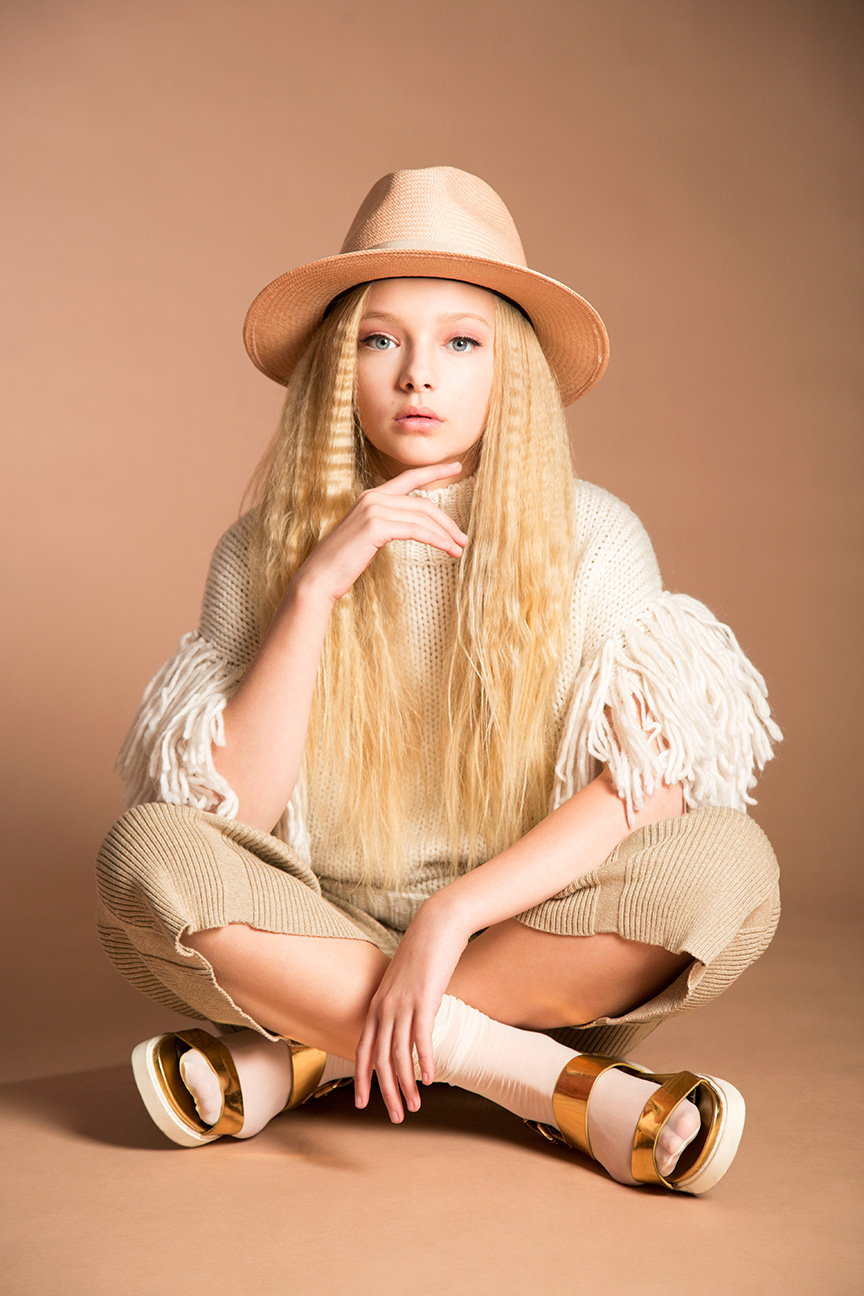 You know when something works out and comes together "oh so lovely"? I think I can pretty much say that about this editorial I worked on for Mini-Maven with rising star, Amiah Miller. From the photographer to the wardrobe stylist and of course to the hair and makeup, this shoot worked out perfectly. Scroll down to check it out and learn more about the products I used. I hope you love it just as much as I do!
It's all about flawless, glowing skin and crimped hair on this shoot with Amiah Miller!
Using a crimping iron can be tricky and can quickly make the hair look dated. For this look, I wanted Amiah's hair to have a modern and fresh take on the crimping style. First I evenly sprayed her hair with Kenra Volume Hairspray, then brushed it through. Then I took 1-2 inch sections of her hair and crimped starting just above her ears to the end of the hair, leaving some of the ends without crimping. I added more hairspray to hold the crimp style in place.
To create her lit-from-within glow, I mixed a couple of drops of Giorgio Armani Luminous Silk with a couple of drops of Wonder Glow. Then I applied this foundation starting in the center of her face and blending out to her forehead, cheeks, and chin. Instead of adding a blush, I brushed Hourglass' Luminous Light Powder onto her cheekbones. This powder is a light champagne highlighter with a subtle hint of shimmer and not too much color. I love how this highlighter kept her skin looking fresh.
To brighten under her eyes, I lightly brushed the inner corners with Beautycounter's Concealer and blended in with a brush. The color of her bright blue eyes stood out, even more, after dusting her eyelids with a shimmery Rose Pigment. To add more definition, I lined her eyes with Tarte Liquid Liner and added faux lashes. Jouer's Divine Lip Gloss, a soft pink, was brushed onto lips to complete her look.
This shoot with Amiah Miller is definitely one of my favorites to date! If you'd like to see more from our shoot, you can check out the full editorial here.
Ok, so I want to know, have you ever or would you ever crimp your hair? Give me a yay or nay in the comments below!
Photography: Kymberly Marciano, Makeup and Hair: Renée Loiz, Wardrobe Styling: Heather Rome, Model: Amiah Miller