Look One: Side Pinned Hair + Highlighted Skin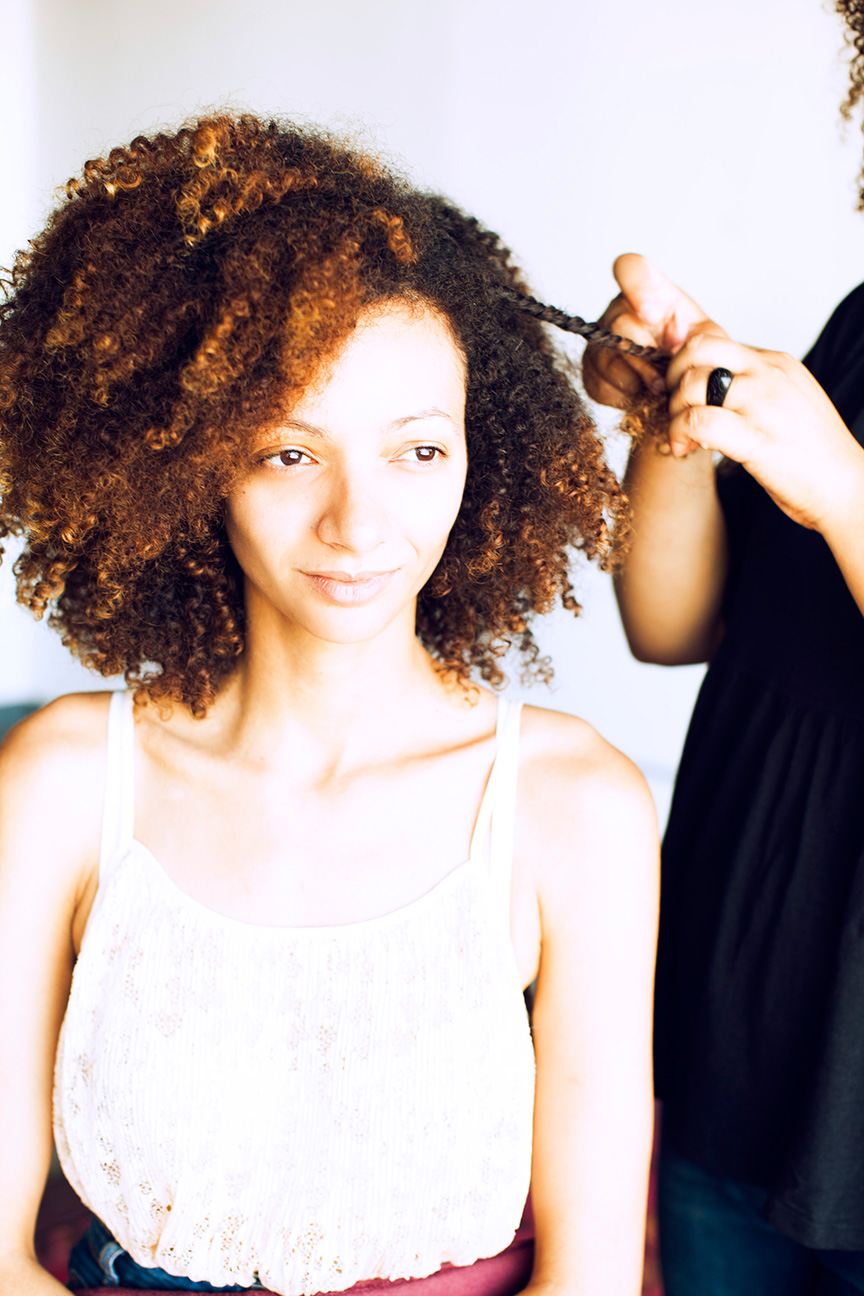 I started by moisturizing Kendall's hair with Free Your Mane Restorative Oil. This oil reduced any frizziness and gave her curly locks instant shine. Next, I parted hair on the side and added double strand twists, pinning down with bobby pins behind her ear.
To prep her skin, I smoothed on a couple of pumps of Anew Vitamin C Serum. This serum is ideal for brightening your complexion, and it leaves the perfect lustrous glow. Then I brushed Kjaer Weis Cream Foundation in Illusion lightly over her skin for a velvety, semi-matte finish. Use this foundation also as a concealer to cover any shadows under the eyes.
After foundation, I followed with Beautycounter's Lustro Shimmer Oil to give a healthy bronzed glow. Then I brushed Radiance Highlighter onto eyelids, cheekbones, center of the forehead, down the bridge of the nose, and on the cupid's bow. This creamy, warm pearl color leaves skin with the prettiest glow. I love how you can use this highlighter everywhere and on every skin tone.
Lips were kept natural with Kjaer Weis Bliss Full Lip Tint, a fresh pink hue. Lastly, I filled in her brows with It Cosmetics Universal Taupe Brow Pencil. If you can believe it, this pencil will match all hair colors correctly, depending on how hard you press! To bring out the gold highlights in her hair I brushed Senna Blonde Shimmer Brow Fix onto brows.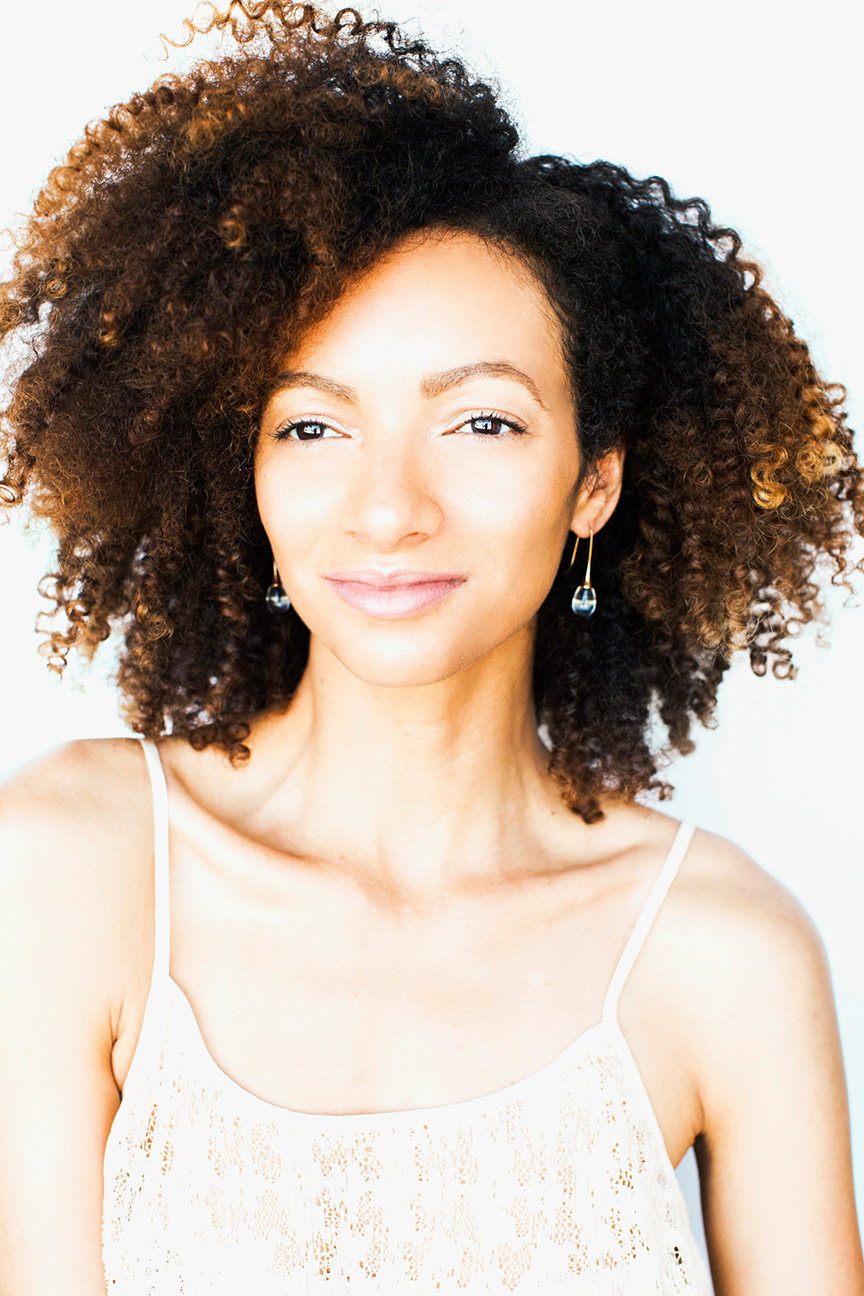 ---
Look Two: Braided Crown + Plummy Eyes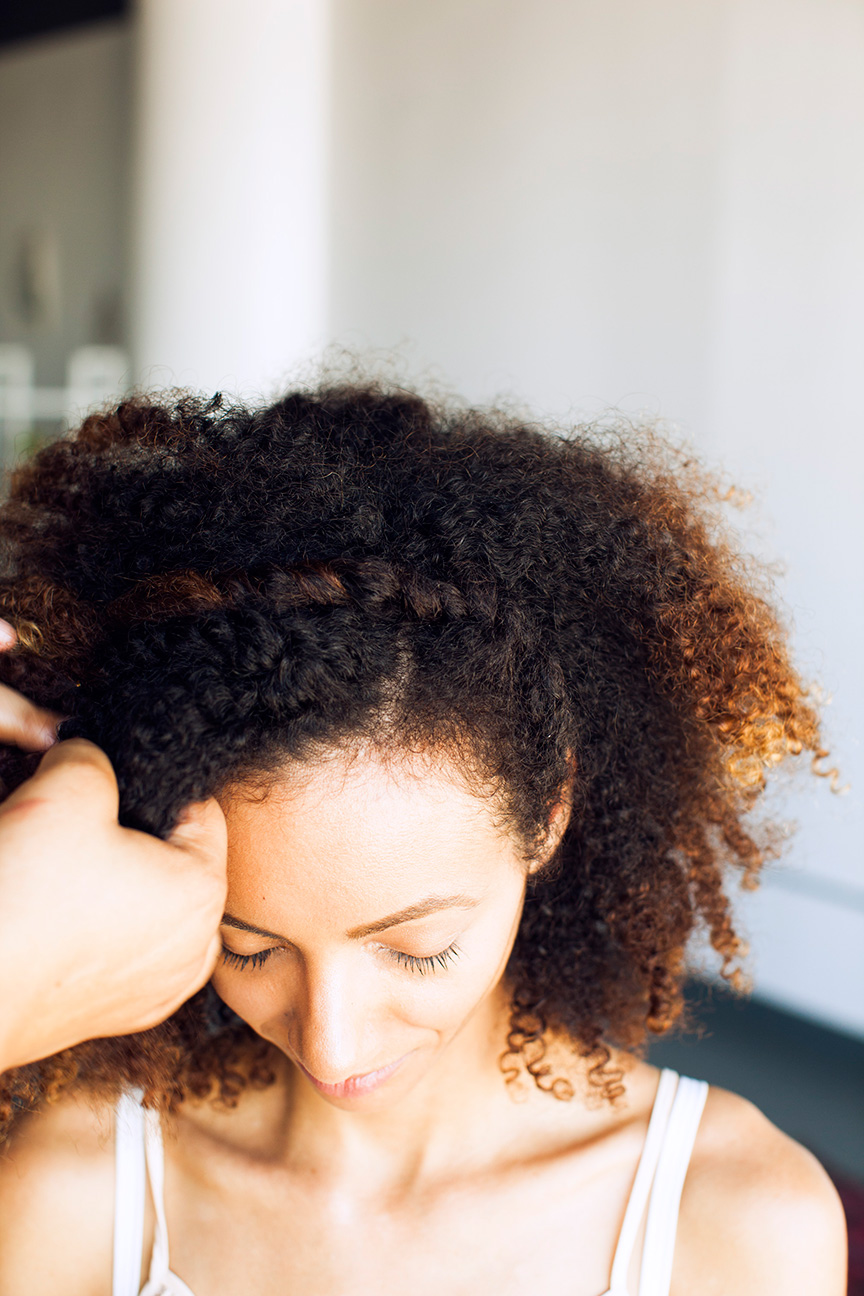 For this hairstyle, I rubbed Leonor Greyl Styling Cream through her hair to define the curls. Then I twisted, braided, and pinned three different sections to her hair in the front to make a "crown." The gold headband added extra sparkle to her braided crown.
I wanted to add a slight contour to her cheekbones, so I used Velvety from Kjaer Weis, which was one shade darker than her skin tone. Apply contour under cheekbones and blend with an angled blush brush for the best results. Desired Glow, a creamy bronze color, was swept onto the apples of her cheeks for a soft, radiant finish.
For Kendall's eyeshadow color, I lined her eyes with Vert Beauty Violet Pencil, a rich purple. Then I smudged it out and blended up to the crease with the Pretty Purple Eyeshadow from Kjaer Weis. Plummy colors work so well for someone who has olive or golden undertones. To achieve perfect voluminous lashes, I coated hers with Kjaer Weis Mascara. A bright pink on the lips from Rapture Lip Tint complimented the soft plum colors on the eyes.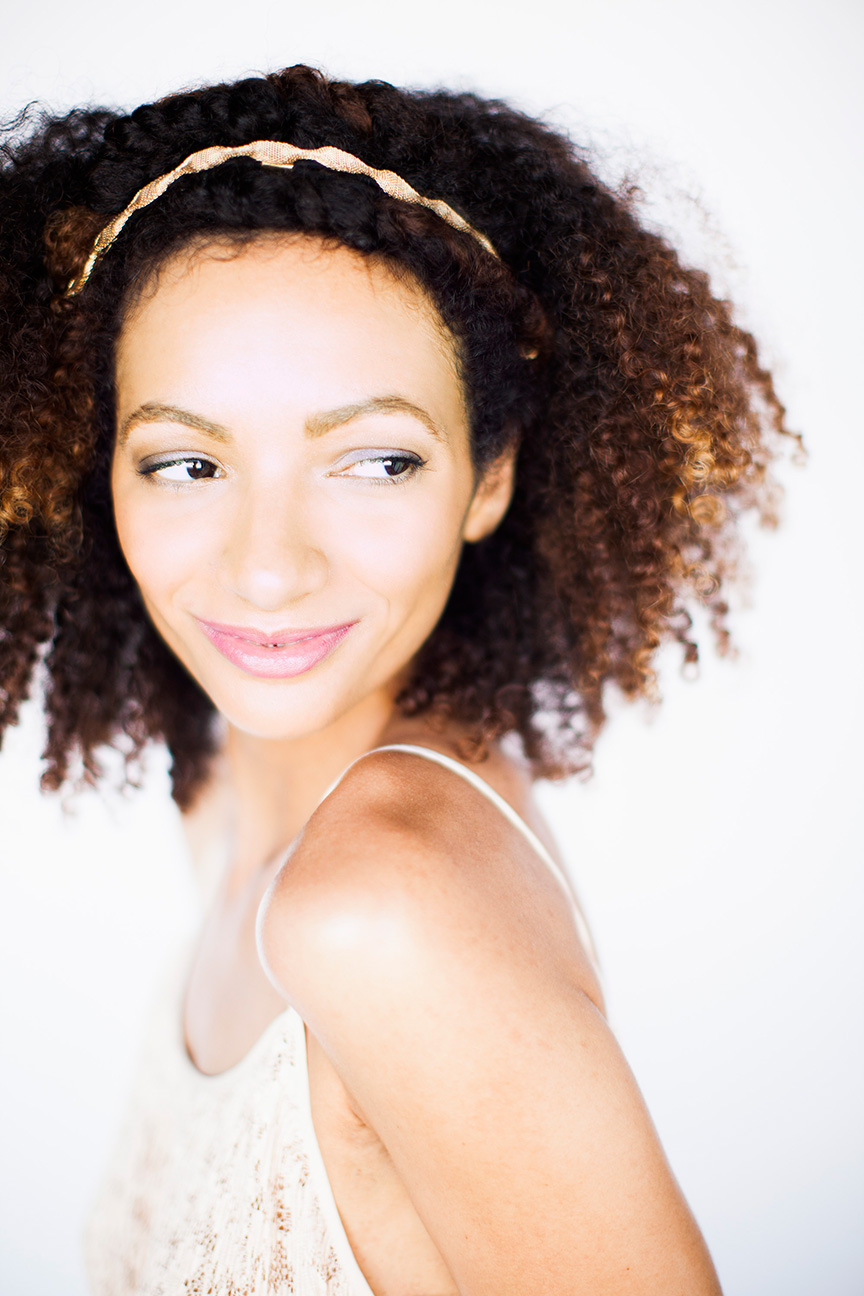 ---
Look Three: Curly Hair Updo + Bold Lip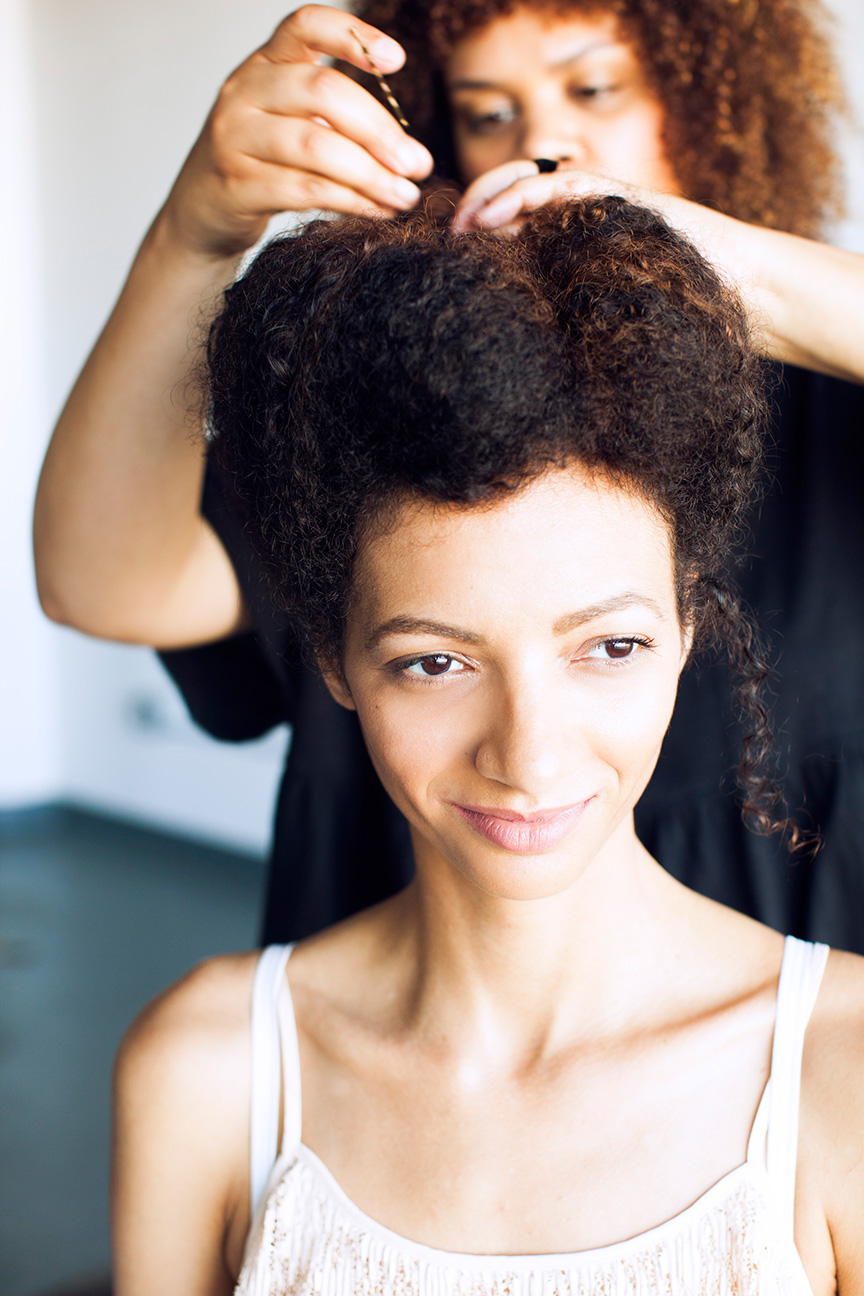 To create this updo, I started out by spraying her curls with Leonor Greyl Curl Enhancer to add more volume. Once the product had dried, I rolled her hair from the sides inwardly, pinning on the top of her head to hold in place. When the hair was all pinned up, I gently pulled it into the shape I wanted. Complete the look by leaving a few curls hanging down around the face.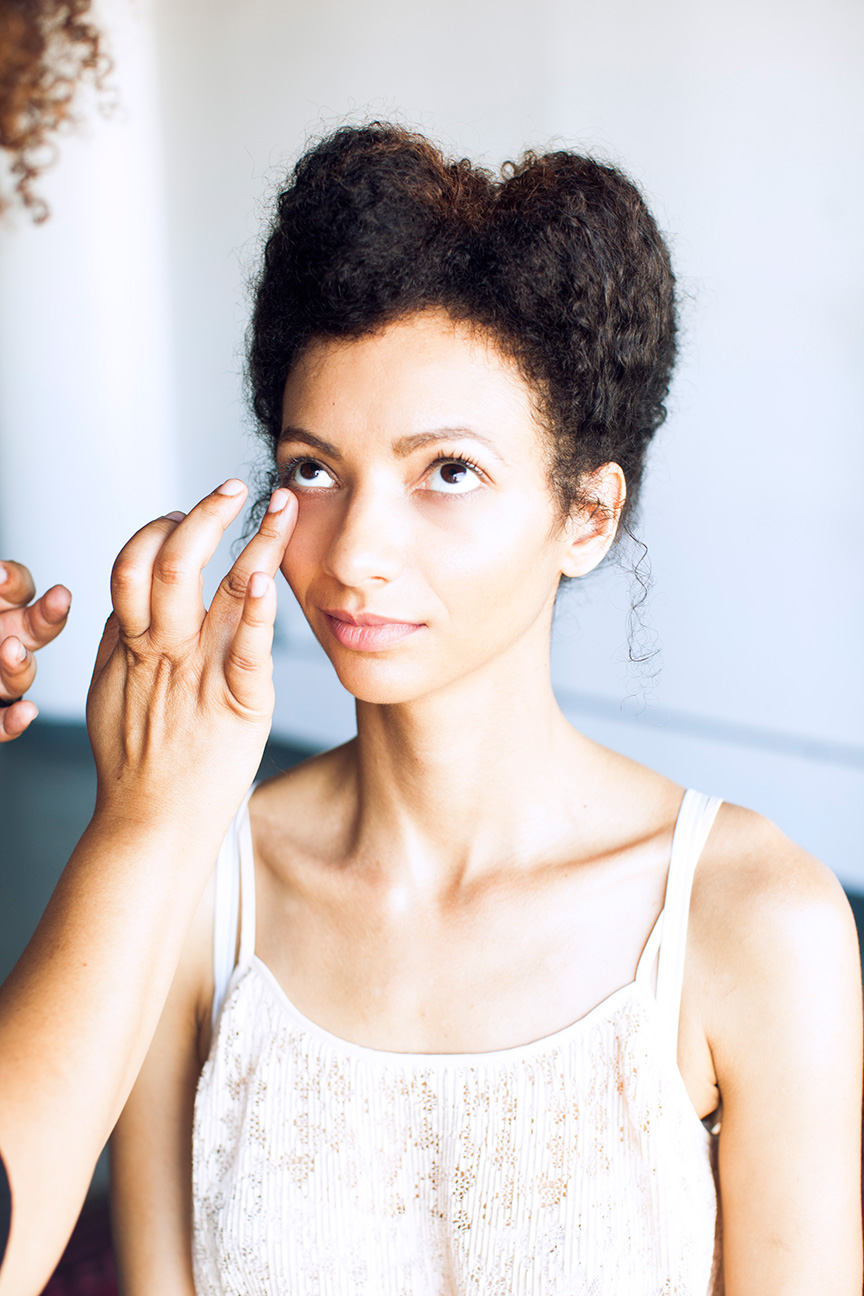 If you have any puffiness under your eyes, try Perfekt Eye Perfection Gel. I used this on Kendall's eyes to depuff and smooth out any fine lines. Then I hydrated her lips with Beautycounter's nourishing Lip Conditioner. For her skin, I applied Luminous Silk, one of my favorite foundations. This foundation glides smoothly and seamlessly onto the skin and leaves a lovely dewy finish.
Her lips were going to be the primary focus on this last look, but I did want a bit of definition around her eyes. With a flat eyeshadow brush, I blended Onyx Eyeshadow, a black and silver color right into the lash line and onto the lid. Then I lined underneath her lashes and bottom lash line with Georgie Beauty Charcoal Gel Pen. This pencil is perfect on the waterline because it sets and won't budge, making it smudge proof.
To finish the last look, I used a vibrant rosy blush on her cheeks and blended upwards, towards her temples. Her lips were filled in with Kjaer Weis' Beloved Lip Tint. Start off with just a small amount and build up for an intense blackberry shade.
Which of these beautiful, naturally looks are you most excited to try out? I'd love to hear about it in the comments below!
Makeup, Hair, and Wardrobe Styling: Renée Loiz, Photography: Dana Sabre, Model: Kendall Keith, Top: Zara Camisole, Jacket: Zara Flowing Jacket with Belt, Skirt: Zara Denim Skirt (similar here), Studio: The Moon and Co