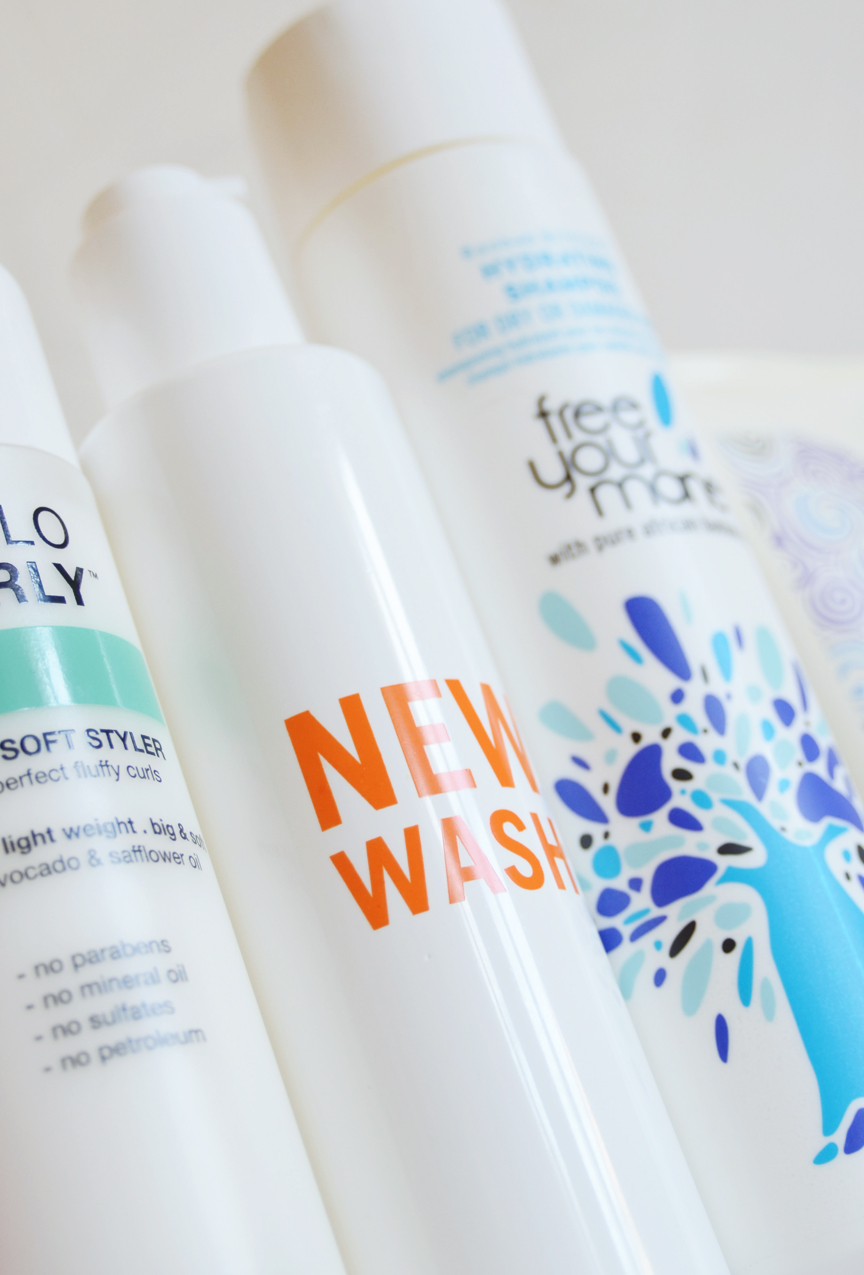 There's plenty of hair product out there for us curly girls. Many of them are reviewed over and over again, but I'm always on the lookout for something new and fresh—leaders of the new school—innovative products making waves in the natural hair industry. Keep reading to learn more about some of my favorites!
Wash Day
Let's talk about co-washers and shampoos. In a previous post, I mentioned a styling product from Hairstory. I love their modern approach to hair products and how they focus on a less is more attitude. New Wash was the first product for Hairstory developed by hair master, Michael Gordon. This product is a shampoo and conditioner in one, cleansing and balancing hair with essential oils. After applying to hair, massage into scalp, comb through for easy detangling, then rinse. I add a little more as a leave in conditioner and my hair is left feeling hydrated and silky and not weighed down.
Once a month, I like to use a shampoo with a little lather in it to deep clean my hair of all the product buildup. Oftentimes, my hair is left with a squeaky clean feeling and is stripped of its moisture. After cleansing with Free Your Mane Sulfate Free Hydrating Shampoo, my hair is left moisturized, soft, and shiny. The main ingredient, Baobab Oil, is super hydrating and easily absorbs into the hair.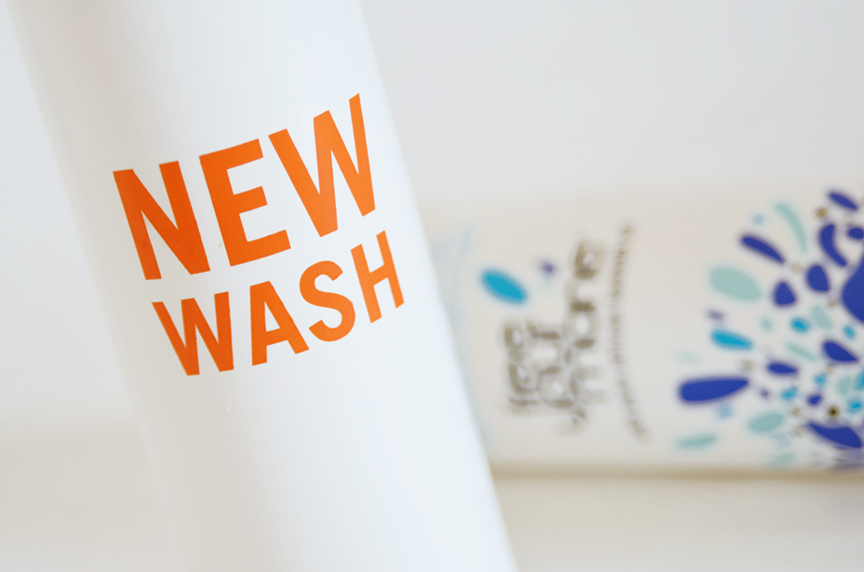 ---
Go Deep
I color my hair and if I don't deep condition my strands my hair gets dry and frizzy. A lot of times deep conditioners are too thick and I have to do a lot of work to get the product into my hair only to be left with overly moisturized and limp hair. When I tried Briogeo Don't Despair, Repair! Deep Conditioning Mask the consistency is similar to a lotion making it easy to work into and coat each strand. Ultimate moisture is provided from avocado, sweet almond, and argan oils, and the keratin protein strengthens my weak strands. After 5 minutes, rinse out and hair feels silky smooth.
If you have really thick textured curly hair, Aunt Jackie's Fix My Hair Intensive Repair Conditioning Masque has your name written all over it! This blend of flaxseed, honey, avocado and coconut oils stops breakage and split ends in their tracks and improves the overall condition of your hair. To lock in moisture, use this masque for protective styling.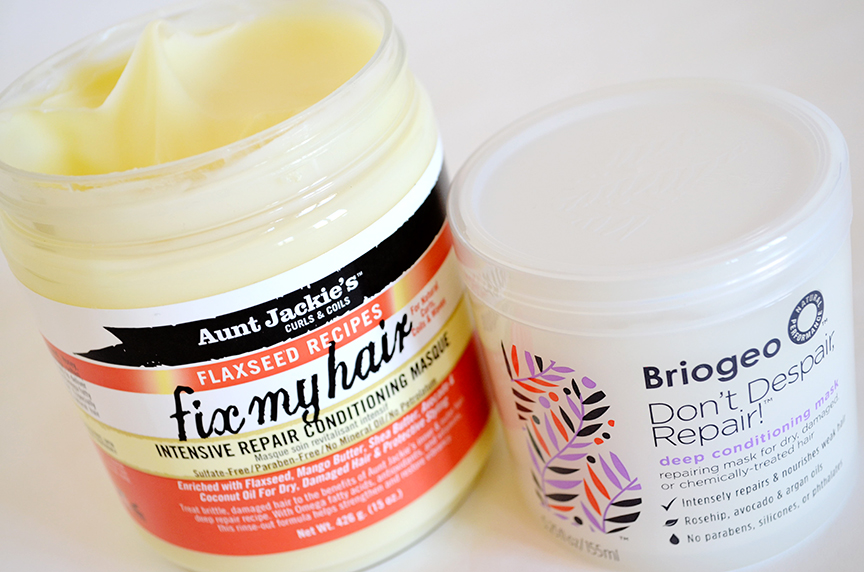 ---
Stay Conditioned
I was so excited to try Bumble and Bumble's new curly girl products. The Bb Curl Custom Conditioner really stood out to me because it can be used as a co-wash, rinse out conditioner, or leave-in. After shampooing and deep conditioning, I use as a leave-in conditioner. It has a good slip, doesn't weigh my hair down, and keeps it moisturized with Capuacu Butter and Brazilian Oils. I use it every single day and have no product buildup and no flaking.
Briogeo Curl Charisma Leave-in Defining Crème protects curls from fizz with Rice Amino Acids, Mollis Leaf Extract & Tomato Fruit Ferment. You can use as a leave-in conditioner or as a finishing cream to define curls. Inspired by her mother and grandmother, Nancy Twine created these products using ingredients which are the base of her products today. She put a lot of care and thought into the development, recognizing that every hair texture has specific needs. Our hair definitely appreciates that!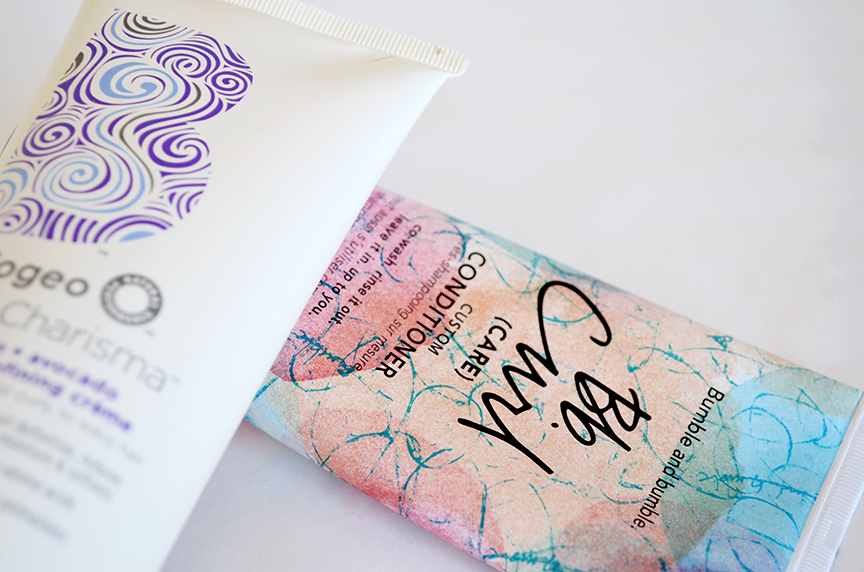 ---
Style Enhancers
The common question curly girls are often asked is, "What do you use in your hair?" This question inspired songstress Amel Larrieux to create Beautiful Us She Night Before Moisture for Hair and Skin. With 3 years of development, she perfected a secret blend of monoi, olive, and sesame oils to give hair ultimate moisturize without an oily residue. A little bit of this rich moisturizer goes a long way and can also double as a body moisturizer. I love a multipurpose product.
I have fine, curly hair and am always looking for something to give it supreme volume. Hello Curly Fluffy Soft Styler is a light weight lotion that doesn't weigh my curls down and still keeps them hydrated. After applying a leave-in conditioner, I use a nickel sized amount of this styler and distribute evenly by finger detangling. Once my hair dries, the curls are left defined and voluminous!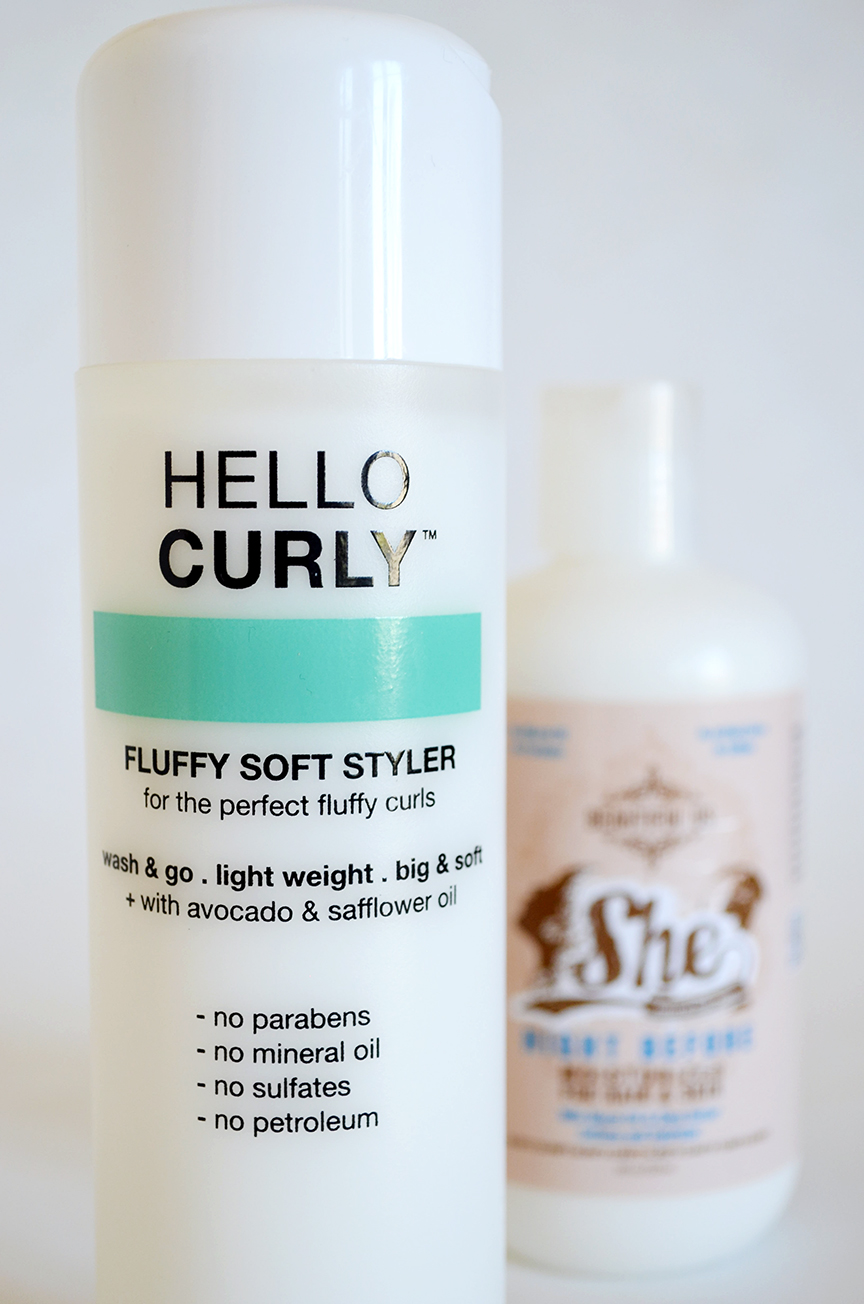 ---
Curl Poppers
If you haven't heard of Felicia Leatherwood, then let me introduce you to the natural hair whisperer. She knows how to deal with every type of curl and understands that no two curls are the same. Not only does Felicia have amazing natural hair workshops, she has also developed the Black Detangler Brush. At first, I was pretty nervous to use it because I didn't think it would get through my hair. But after a few uses, I can honestly say this brush works amazing for natural and curly hair! The nylon bristles are widely spaced, making it easy to glide through hair without ripping it out. I recommend using this during conditioning treatments to define curls and waves.
Made with baobab tree oil, argan and pomegranate seed oil, Free Your Mane Glimmer Pomade is a super conditioning pomade that helps control frizz. But the awesome thing about this product is the golden mica in it! this adds a subtle shimmer to make those curls pop! I like to apply to the ends of my hair and twist through.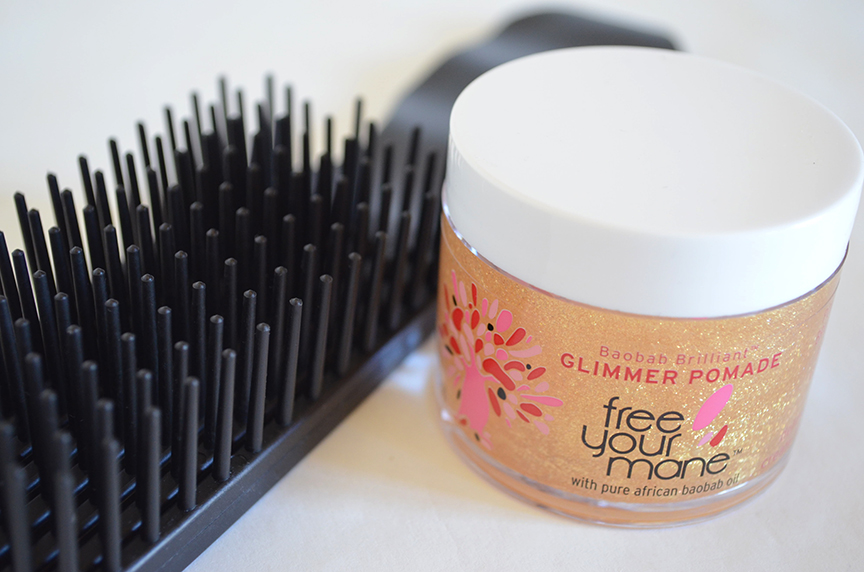 ---
Which new products have you tried lately? Let's talk in the comments below!