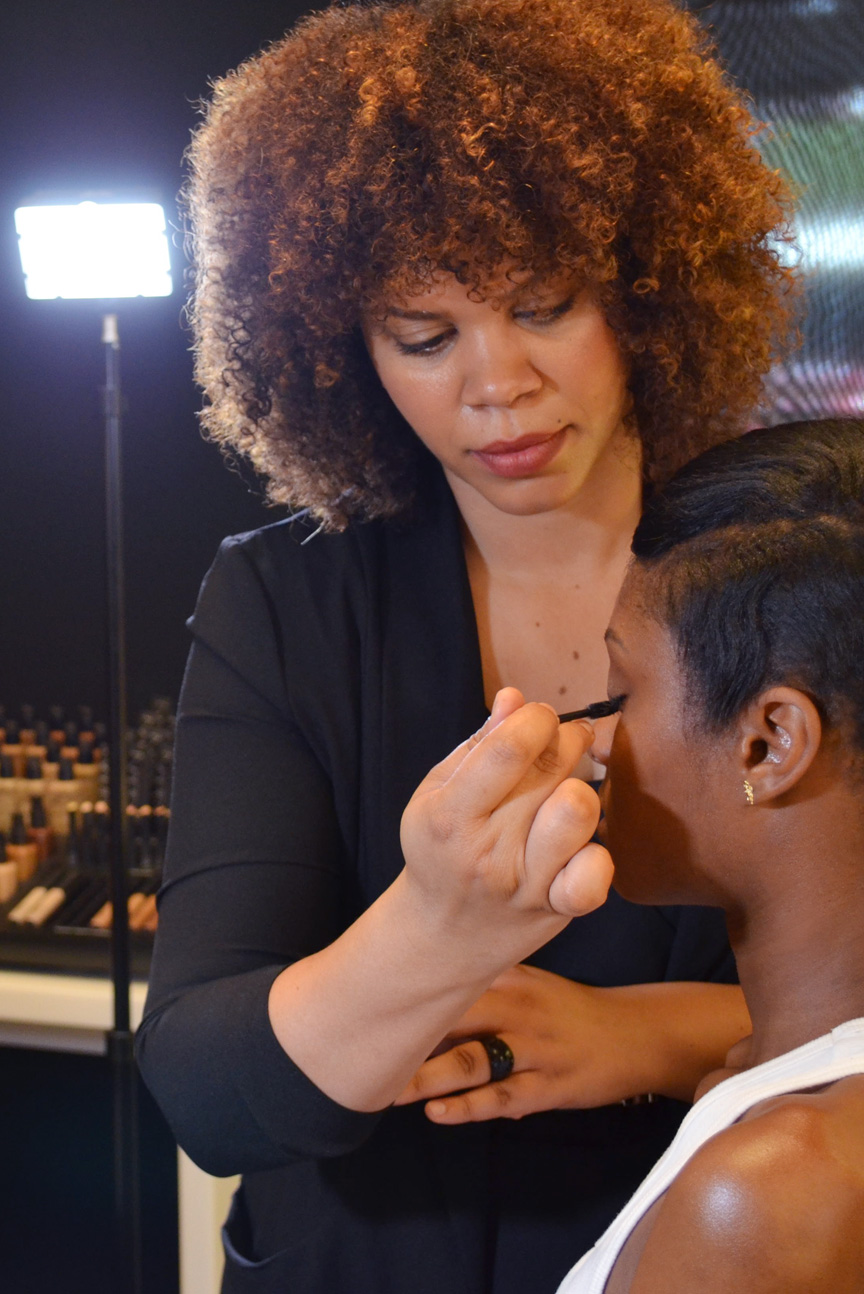 Earlier this month, makeup artist Christina Henry and I held a NARS Holiday Makeup Class at their boutique in Los Angeles. With our combined knowledge and experience in the field, we came together to share simple makeup techniques for the holidays.
Christina and I arrived early to prepare our makeup station, set up lights, and lay out breakfast treats for our guests. We wanted to make sure every detail was covered before they arrived. Hosting a makeup class is hard work, but we had so much fun doing it!
After introductions and sharing about our backgrounds, I started my demo. Glowing skin and festive pops of color to the eyes, cheeks, and lips were the focus of my holiday glow look.
Taking care of your skin plays a major role in how your makeup will look. So for my holiday glow makeup, I prepped the skin with Brightening Concentrate and Luminous Moisture Cream. By using these two products together, the results were an even skin tone, brighter complexion, and intense hydration.
Next, I brushed NARS Iskandar and Pygar Eyeshadows, two vibrant golds, onto the eyelids. These glittery eyeshadows are perfect for the holiday season! For a winter flush, Impudique was tapped onto cheeks and blended up to the temples. Lastly, Mineshaft velvet lipstick was smoothed onto lips. I loved how this yellow-red lipstick was highly pigmented and totally softened her lips.
Christina's demo was a holiday smokey eye with a little bit of glam. After prepping her model's skin, she applied Luminous Liquid Foundation and set with its matching powder for a gorgeous, flawless finish.
She started her holiday smokey eye by first rimming the eyes with a matte black liner like Minorque Kohliner. Arcturus Dual Intensity Eyeshadow, a shimmery indigo was applied to the lid and blended into the crease. The black eyeshadow in the Pandora Palette was brushed in the outer crease and just below the bottom lashes for a smokey effect. To add glam to her makeup look, Christina popped on faux lashes and applied mascara. The bright red Velvet Lip Glide in No. 54, completed her holiday look.
After class, we spent one on one time with each guest answering questions, color matching and also making suggestions for their personal or professional makeup kits.
Here are our final looks for the holidays. How gorgeous are these two girls?!?! Thank you all for coming! We can't wait to see you at our next class.
What makeup techniques would you like to see covered in one of my future classes? Share with me in the comments below.
Photography: Silver Park; Makeup Artist: Renée Loiz; Renée's Model: Jayla Alex, Makeup Artist: Christina Henry, Christina's Model: Helia Zandipour