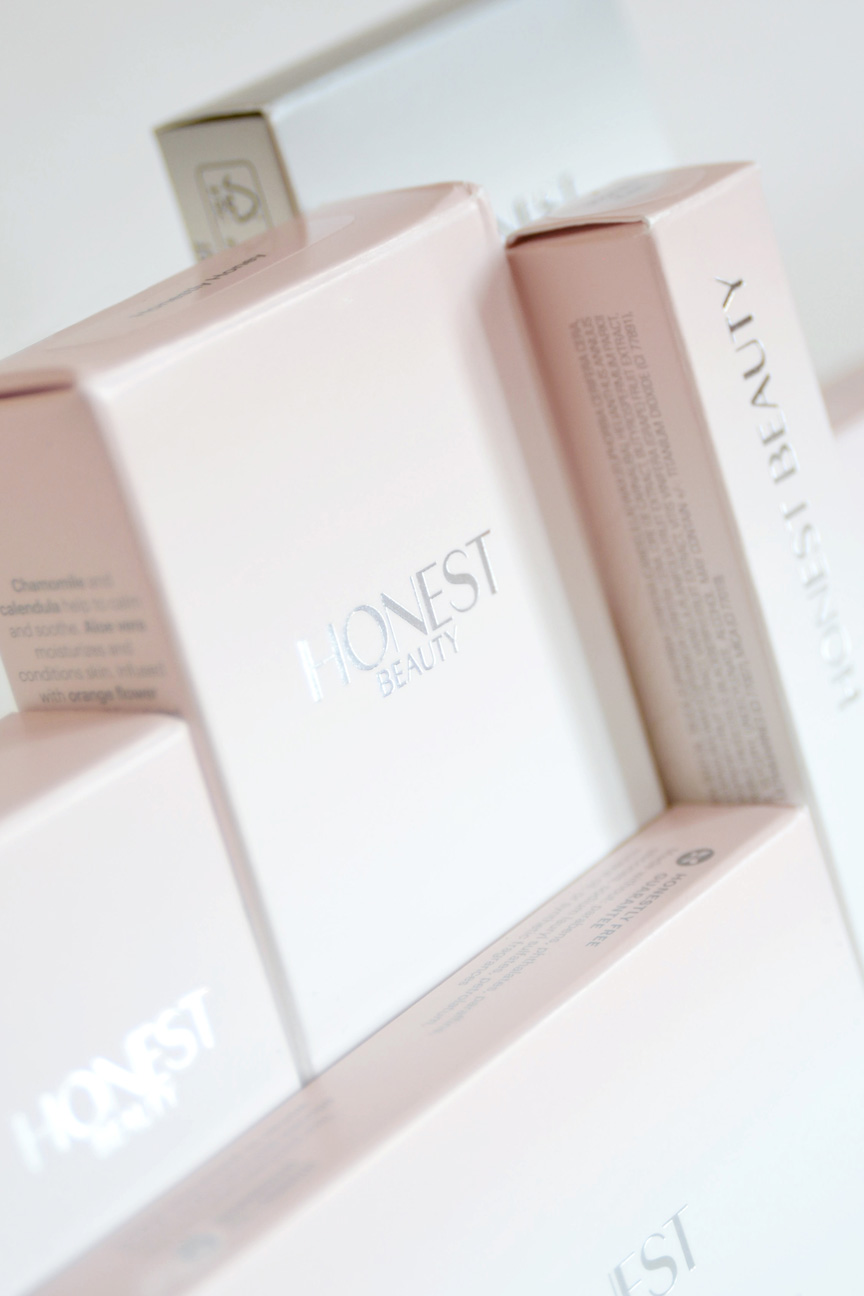 As you may have noticed from another recent post, I've been increasingly interested in and testing out new green makeup lines. The quality of products from many of these lines have been getting better in recent years and I have found myself replacing my personal and professional kit with products that are better for you inside and out.
Honest Beauty, a new makeup and skin care line launched by Jessica Alba, has been making big waves in the beauty industry. Like her other successful company, the Honest Company, it focusses on natural ingredients and all products are free from parabens, phthalates, petrolatum, sulfates, and chemical sunscreens. Honest Beauty also is geared toward a diverse group of women and has colors and formulations that work on a variety of skin tones. In this post, Simply Honest, I share some of my favorite products from Honest Beauty that you can add to your daily routine.
Everything Primer & Everything Tinted Moisturizers
While I'm not much of a primer girl, I was drawn by the Everything Primer Luminous Base. Anything that says it can illuminate my skin is usually a selling point for me. This primer also minimizes the appearance of pores and helps foundation glide on smoothly. I will be using this for my bridal clients to give them radiant skin and to keep their foundation in place.
My skin is on the drier side, so when I tried the Oil Free Everything Tinted Moisturizer, it was a bit too matte for my liking and would be better for someone who wants to take down the shine on their face. The Everything Tinted Moisturizer, on the other hand, worked great for my skin type. My skin glowed and stayed hydrated throughout the day. The color Honestly Honey was a perfect match, which is something I always have a problem with when trying to find a color for my skin tone. This one is a keeper!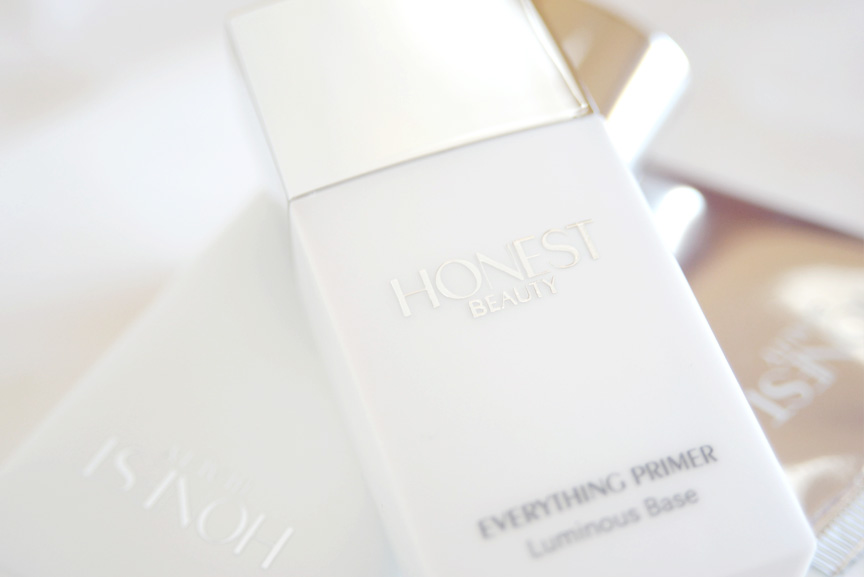 ---
Crème Blush & Luminizing Powder
One of my favorite pieces from Honest Beauty is their Crème Blush in Truly Teasing, a beautiful nude rose color. This can be worn sheer or you can add a bit more for a dramatic look. Simply dab on the apples of cheeks and blend. There are 6 colors to choose from and each one is as pretty as the next. *Bonus: you can also use the blush as a lip tint!
Luminizing Powder is a baked powder that has a subtle shimmer. You can use it to highlight the face or as a finishing powder after applying foundation. After using the Midnight Reflection color, I loved how the sheer application softly highlighted my cheekbones.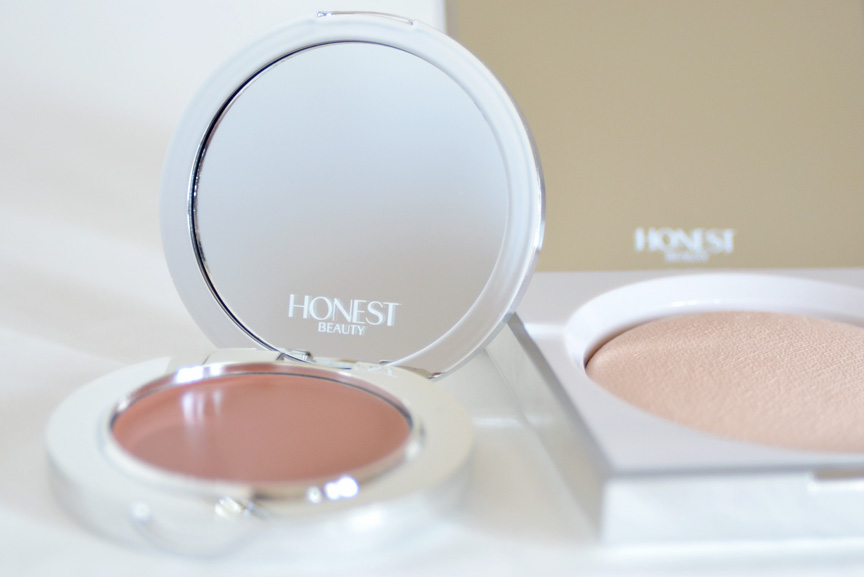 ---
Eyeshadow Trio & Truly Lush Mascara
The Eyeshadow Trio comes in six different palettes with a variety of colors including matte and shimmer textures. I stay neutral when I wear eyeshadow, so the Smokey Grey colors worked out great. Slate Grey, Soft Black, and Taupe Shimmer are the three shades in this palette and can be worn all together or separately. There are so many ways to wear these colors and each palette comes with easy step-by-step instructions to master the perfect eye.
I am always looking for a really good mascara and Truly Lush Mascara + Lash Primer really worked for me. Rarely, if ever, do I use a lash primer because I find they always make lashes look clumpy after applying mascara. This lash primer did no such thing, even after applying three coats of the primer. After one minute, I topped my primed lashes with mascara and was very happy with the results—long and voluminous lashes without clumps.
---
Magic Balm & Truly Kissable Lip Crayons
Magic Balm is an all-purpose, can-soften-anything beauty balm. It smoothes away any rough patches and hydrates instantly. I especially like using it on dry lips, but you can pretty much use it anywhere that needs extra moisture. Hopefully, in the very near future, Honest Beauty will produce a deluxe size of Magic Balm.
When I first tried the Truly Kissable Lip Crayon – Demi Matte, I was actually shocked with the texture. I didn't realize it would be so matte. The color, Honey Kiss, was a very pretty, soft nude and looked perfect with my Smokey Grey Eyeshadow Trio. But throughout the day, I was missing the moisture on my lips. Thankfully, their other Lip Crayon is Sheer and gives plenty of moisture. My go-to is Chestnut Kiss, a sienna rose color. Both of the lip pencils are twist-ups and do not need to be sharpened, a big time saver.
---
Which Honest Beauty product are you interested to try? Not sure? Try their Beauty Bundle program which is a monthly subscription where you can order any three products for $50. Sign up online, use their app, or if you're in Southern California, visit their new pop-up shop at The Grove in Los Angeles.
Are you ready to go green with your makeup?