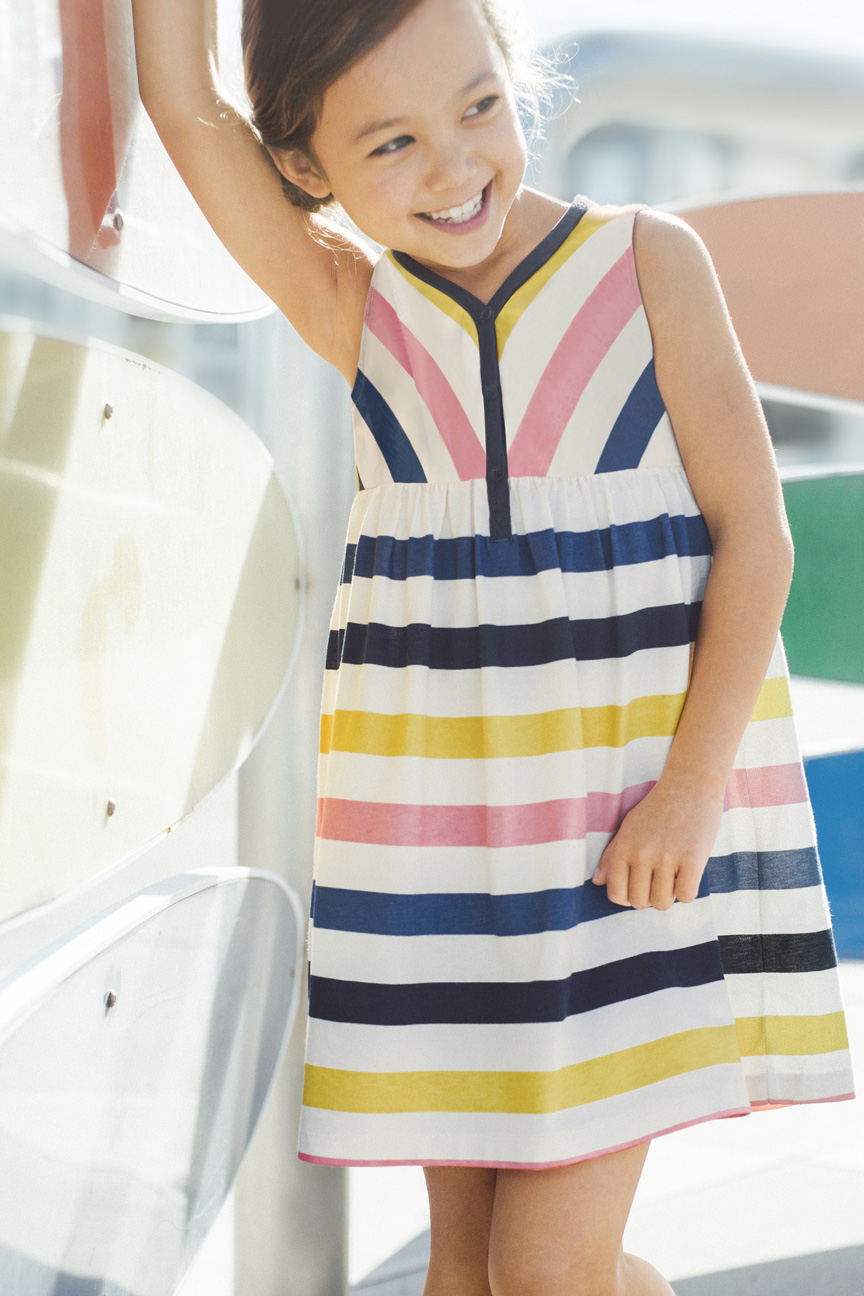 Each season, Tea Collection takes us on a whimsical tour of a different country. For their summer collection, they traveled to Italy and were inspired by the dreamy Amalfi Coast. On this shoot, we shot at Mission Bay Beach and Imperial Beach, both in San Diego, CA. The scenery was reminiscent of the cheerful patterns, speckled shores, and setting suns in Italy.
Keep reading for a look at the hairstyles I had fun creating for my Summer Adventures with Tea Collection post.
While the kids were strolling the boardwalks and running around on the beach, I wanted to keep their hair and makeup natural and effortless. To protect their skin from the sun's super-hot rays, I applied sunscreen and lip balm.
In the opening picture, I sprayed her hair with a beach spray which added a soft texture. To compliment her gorgeous Addio dress, I twisted and wrapped her hair into a side bun and secured it with bobby pins.
To define his curls, I sprayed hair with a bit of water, added a curl cream, and let his hair dry naturally without using any heat. He rocked his Amalfi Diving T-shirt while choosing between bike riding or boogie boarding.
Speaking of boogying, how cute is she dancing in her colorful peplum top? Her curls were rehydrated with a refresher spray and sealed with a shine serum before sweeping them up into a high ponytail.
Bluebell flowers found all over Italy, are the star-shaped blooms that inspired this maxi dress. I applied a grooming creme to give her french braided hair a soft hold. Using bobby pins, I pinned her friend's hair into a high bun to show off the details of her rose-colored sundress.
I love these carefree shots and the pairing of the hoodie and cruising car t-shirt. Perfect for a fun day at the beach!
Thickening creams are ideal for adding fullness to fine hair. I rubbed a pea-sized amount in my hands and smoothed the cream through his hair from front to back to create height. The images below with the sailboat printed t-shirt and sun-baked kaleidoscope wall are some of my favorites!
Where are you planning to take an adventure to this summer? Tell me all about it in the comments below!
Makeup and Hair: Renée Loiz, Photographer: Hideaki Hamada, Wardrobe Styling: Trina Papini, Location: Mission Bay Beach and Imperial Beach in San Diego, CA